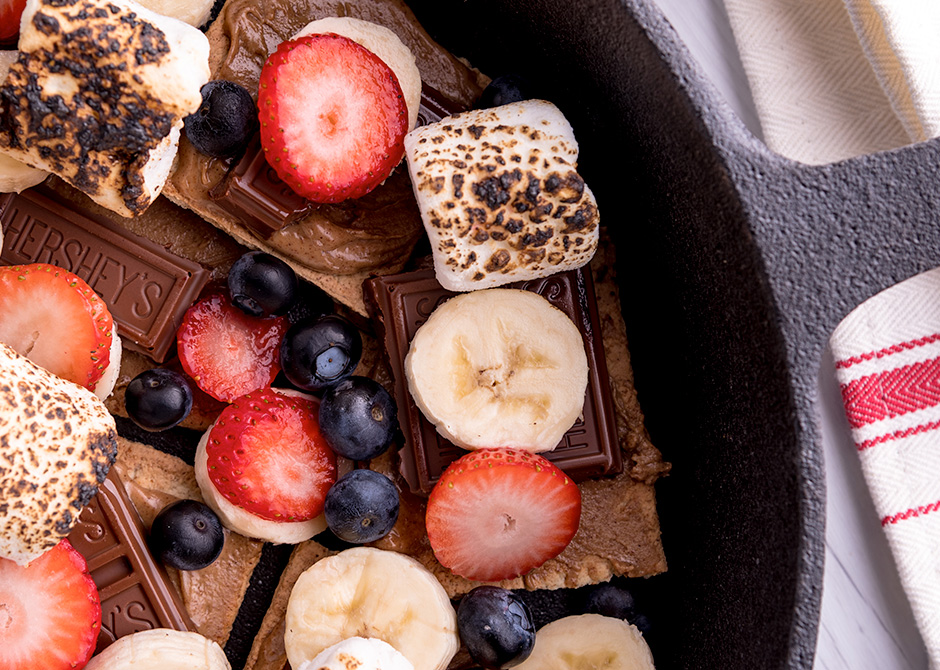 Melting Pot Skillet S'mores

If America is a great melting pot, then this gooey recipe for skillet s'mores is the American dream. Make them for summer slumber parties, backyard picnics or any other time you're looking for a red, white and blue smile—no campfire required.

Serves: 11
What You Need:
5-8 graham cracker squares (enough to line your cast iron pan)

½ cup of almond butter

1 HersheyⓇ bar

4 strawberries, sliced

½ banana, sliced

Cinnamon, to taste

½ cup of blueberries

4 big marshmallows
 How It's Made:
Preheat your oven using the broiler function.
Pull out a medium-sized cast iron skillet and layer graham cracker squares on bottom, breaking a couple squares in half as needed.
Spread almond butter on each graham cracker.
Place Hershey'sⓇ chocolate on top of graham crackers followed by strawberries, bananas, and lastly, blueberries.
Arrange marshmallows on top and sprinkle lightly with cinnamon.
Place in oven and broil marshmallows until visibly toasted (1-2 minutes)
Remove skillet from the oven and top with another layer of graham crackers before enjoying!

Calories 158
Fat 8g
Protein 4g
Carbs 20g
Fiber 6g
Sugars 10g
Sodium 13 mg
Start Shopping!
Get everything you need to make our Melting Pot Skillet S'mores online or in-store!
Shop STREETside
Find My Store
Hungry for More Health and Wellness?
Download our quarterly guide for holistic living tips from our lifestyle experts!