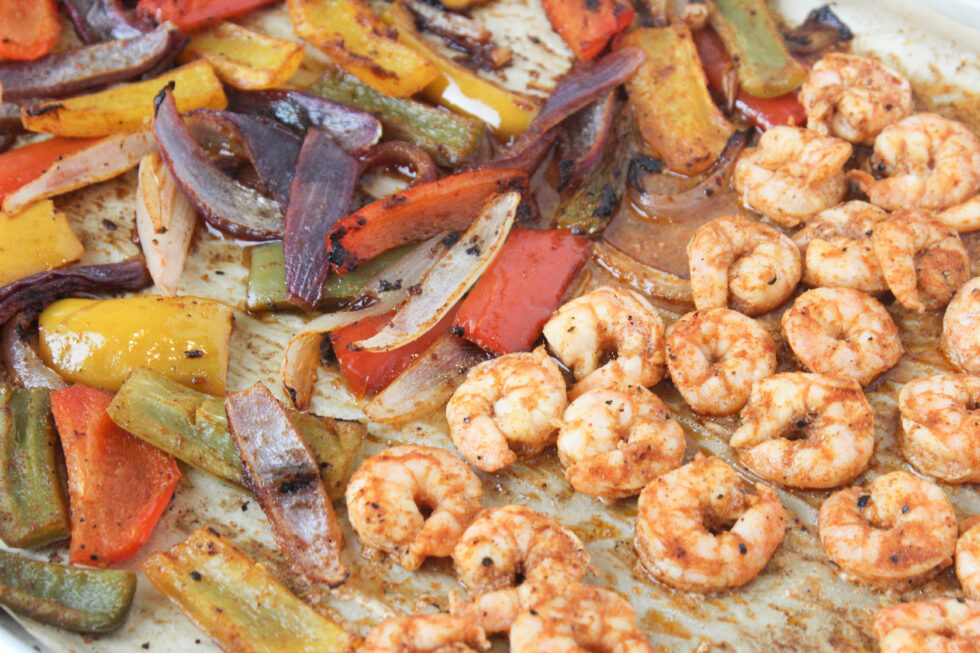 1 Pan Shrimp Fajitas

1 sheet pan dinners make our 'mama-hearts' so happy with clean-up having less items. This recipe also highlights a shortcut we have on our grocery list every week, Fresh Cut Fajita Mix. This shortcut has saved us time and time again with everything from Asian style dishes to Mexican.
What You Need
1 ½ lb Shrimp, peeled and deveined
3 Tbsp. Olive Oil
¼ c. Lime Juice
½ Tbsp. Honey
1 Tbsp. Cumin
1 Tbsp. Chili Powder
1 Tbsp. Paprika
¼ tsp. Salt
½ tsp. Pepper
1 pkg. Fresh Cut Fajita Mix
Optional Toppings: tortillas, lettuce, cheese, cilantro, pico de gallo
 How It's Made:
Preheat oven to 425

In a bowl combine the fajita mix with lime juice, honey, cumin, chili powder, paprika, salt, and pepper

Line a baking sheet with parchment paper and place the peppers on and cook for 25 minutes

While your peppers are cooking, place the shrimp in the same marinade and let sit

Pull the peppers out of the oven, scoot them to one side and pour on your shrimp and space them out in a single flat layer

Place pan back in the oven for 4-5 minutes until the shrimp are pink

Take the pan out of the oven, let it cool, and build your fajitas as desired
Calories 328
Total Fat 14g
Protein 36g
Sodium 452mg
Fiber 3g
Carbohydrates 13g
Ready to Start Shopping?
Get everything you need online!
Shop Online