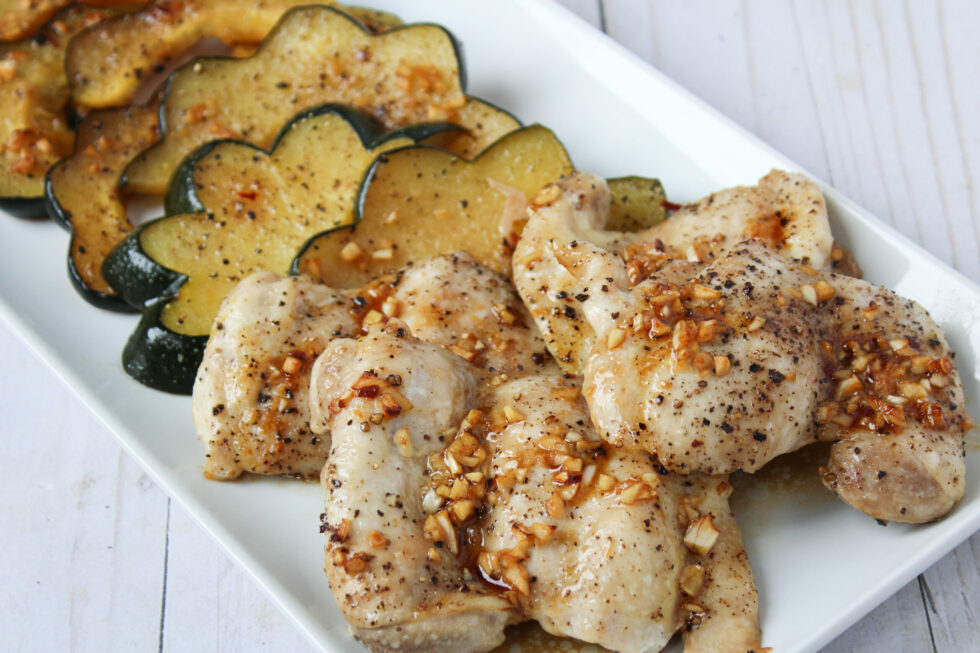 1 Sheet Pan Acorn Squash and Chicken Thighs

1 sheet pan dinners are our jam! That's why we focused a few weeks back on a roundup for you to make weeknights more simple. This one is no different! This one requires minimal prep and big flavor payoff with your spice cabinet coming into play.
What You Need
1 Medium Acorn Squash
1 lb. Chicken Thighs
4 cloves Garlic, minced
½ tsp garlic powder
Pinch Red Pepper Flakes
¼ tsp. Ginger
1 Tbsp. Honey
2 Tbsp. Soy Sauce
2 Tbsp. Rice Vinegar 
2 Tbsp. Toasted Sesame Oil
Salt and Pepper as Desired
 How It's Made:
Preheat oven to 350 degrees

Line a baking sheet with parchment paper

Place chicken thighs on the baking sheet

Slice the acorn squash in half from stem to tip and scoop out the seeds with a spoon

Cut off both ends of the acorn squash and slice ½ inch thick slices

Place on tray (they will overlap and this is ok)

In a small bowl combine garlic, garlic powder, red pepper flakes, ginger, honey, soy sauce, rice vinegar, toasted sesame oil and stir

Spoon the entire mixture evenly over the ingredients

Bake for 30 minutes
Calories 345
Total Fat 18g
Cholesterol 153mg
Sodium 646mg
Carbohydrates 19g
Fiber 5g
Sugar 10g
Protein 30g
Ready to Start Shopping?
Get everything you need online!
Shop Online