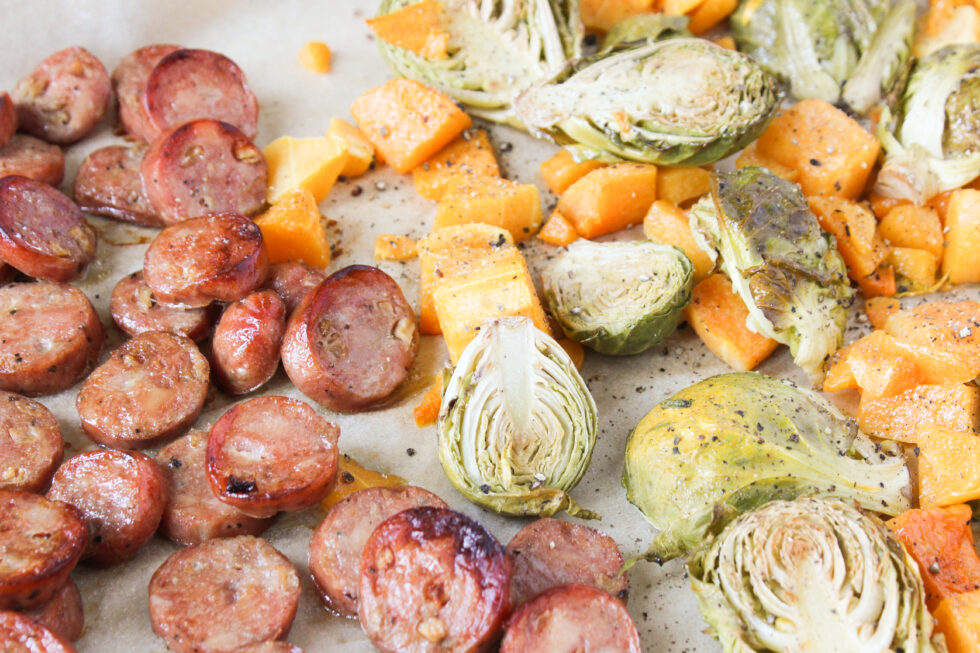 1 sheet pan Cinnamon Butternut Squash and Brussels sprouts with Chicken Apple Sausage

1 sheet pan meals have been our weeknight warriors lately and with all the fall flavors coming into season whats really not to love. Grab your sheet pan ASAP and fire up the oven for this gem! Short on time, use our pre-cut veggie section and get dinner on the table in a jiffy!
What You Need
1 pkg. chicken apple sausage

1 lb. Brussels sprouts, precut into halves

1 lb. butternut squash, precut into cubes

1 Tbsp. olive oil

½ Tbsp. cinnamon

½ Tbsp. garlic powder

Salt and Pepper to taste
 How It's Made:
Preheat oven to 375

Cut chicken apple sausage into ½ inch coins and place on ⅓ of sheet pan.

Mix halved brussels sprouts and cubed butternut squash together on the other ⅔ of the sheet pan.

Drizzle olive oil over veggies along with seasonings.

Toss with hands to combine.

Bake for 45 minutes.
Calories 341
Total Fat 14g
Protein 16g
Sodium 629mg
Fiber 12g
Sugars 16g
Ready to Start Shopping?
Get everything you need online!
Shop Online