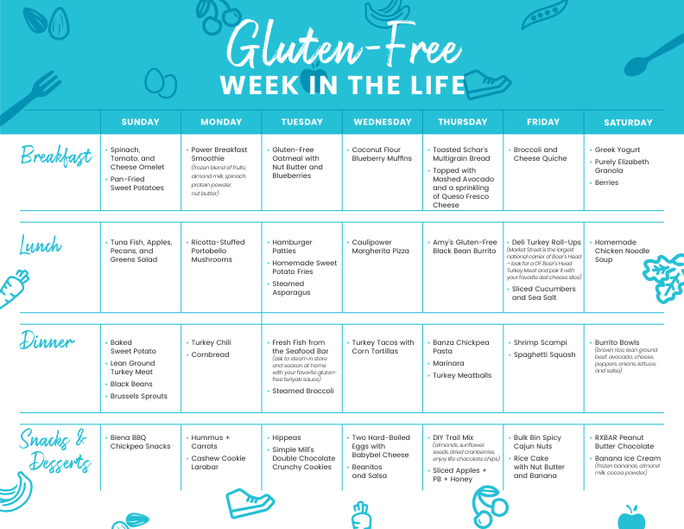 Gluten-Free, A Week in the Life

A full week of finding healthy gluten-free meals can seem overwhelming to individuals just beginning their gluten-free journey! Those who have been living with Celiac for most of their lives can benefit from finding some refreshing meal ideas to mix into their meal plan.

One gluten-free breakfast tip that can help you build a better basket is to look for whole foods first. Seeking whole foods like eggs, vegetables, and fruits for breakfast options are ideal. Some processed and fortified gluten-free breakfast items have additives and other unnecessary nutrients. Check out our Dietitian Top Picks for some of the better-for-you gluten-free options.

Gluten-free snacking can be easy and provide you with healthier options when you swap the refined crackers and chips for fruits and veggies! Pair your fresh produce with one of the many gluten-free hummus, dip, or salsa choices available at Market Street.

Lunches and dinner can be prepared ahead of time or found in the aisles of the supermarket with ease thanks to the "gluten-free" tags at Market Street. Some great gluten-free meal staples include rice, quinoa, corn, potatoes, vegetables, and lean meats or fish!

Gluten-free desserts can feel disappointing, but that is a thing of the past! There are many naturally gluten-free items that can curb that sweet tooth – like Greek yogurt, peanut butter, fruits, chocolate chips, etc.! Get creative in the kitchen, play around with different gluten-free flours, and opt for whole foods first.  If you are looking for a more structured meal plan to mix up your gluten-free menu, check out this 7-day outline of meal ideas that are Registered Dietitian-approved!
Day 1:
Breakfast – Spinach, Tomato, and Cheese Omelet with Pan-Fried Sweet Potatoes
Snack – Biena BBQ Chickpea Snacks
Lunch – Tuna Fish, Apples, Pecans, and Greens Salad
Dinner – Baked Sweet Potato + Lean Ground Turkey Meat + Black Beans + Brussels Sprouts
Dessert – Greek Yogurt + Nut Butter + Enjoy Life Chocolate Chips
Day 2:
Breakfast – Power Breakfast Smoothie (frozen blend of fruits, almond milk, spinach, protein powder, nut butter)
Snack – Hummus + Carrots
Lunch – Ricotta-Stuffed Portobello Mushrooms
Snack – Cashew Cookie Larabar
Dinner – Turkey Chili with Cornbread
Day 3:
Breakfast – Gluten-Free Oatmeal with Nut Butter and Blueberries
Snack – Hippeas
Lunch-Hamburger Patties with Homemade Sweet Potato Fries and Steamed Asparagus
Dinner – Fresh Fish from the Seafood Bar (ask to steam in store and season at home with your favorite gluten-free teriyaki sauce) + Steamed Broccoli
Dessert – Simple Mill's Double Chocolate Crunchy Cookies
Day 4:
Breakfast – Coconut Flour Blueberry Muffins
Snack – 2 Hard-Boiled Eggs with Babybel Cheese
Lunch – Caulipower Margherita Pizza
Snack – Beanitos and Salsa
Dinner – Turkey Tacos with Corn Tortillas
Day 5:
Breakfast – Toasted Schar's Multigrain Bread topped with mashed avocado and a sprinkling of Queso Fresco cheese
Snack – DIY Trail Mix (almonds, sunflower seeds, dried cranberries, enjoy life chocolate chips)
Lunch – Amy's GF Black Bean Burrito
Dinner – Banza Chickpea Pasta + Marinara + Turkey Meatballs
Dessert – Sliced Apples + PB + Honey
Day 6:
Breakfast – Broccoli and Cheese Quiche
Snack – Bulk Bin Spicy Cajun Nuts
Lunch – Deli Turkey Roll-Ups (Market Street is the largest national carrier of Boar's Head – look for a GF Boar's Head Turkey Meat and pair it with your favorite deli cheese slice) + Sliced Cucumbers and Sea Salt
Snack – Rice Cake with Nut Butter and Banana
Dinner – Shrimp Scampi with Spaghetti Squash
Day 7:
Breakfast – Greek Yogurt + Purely Elizabeth Granola + Berries
Snack – RXBAR Peanut Butter Chocolate
Lunch – Homemade Chicken Noodle Soup
Dinner – Burrito Bowls (brown rice, lean ground beef, avocado, cheese, peppers, onions, lettuce, and salsa)
Dessert – Banana Ice Cream (frozen bananas, almond milk, cocoa powder)
View full week in the life calendar here.