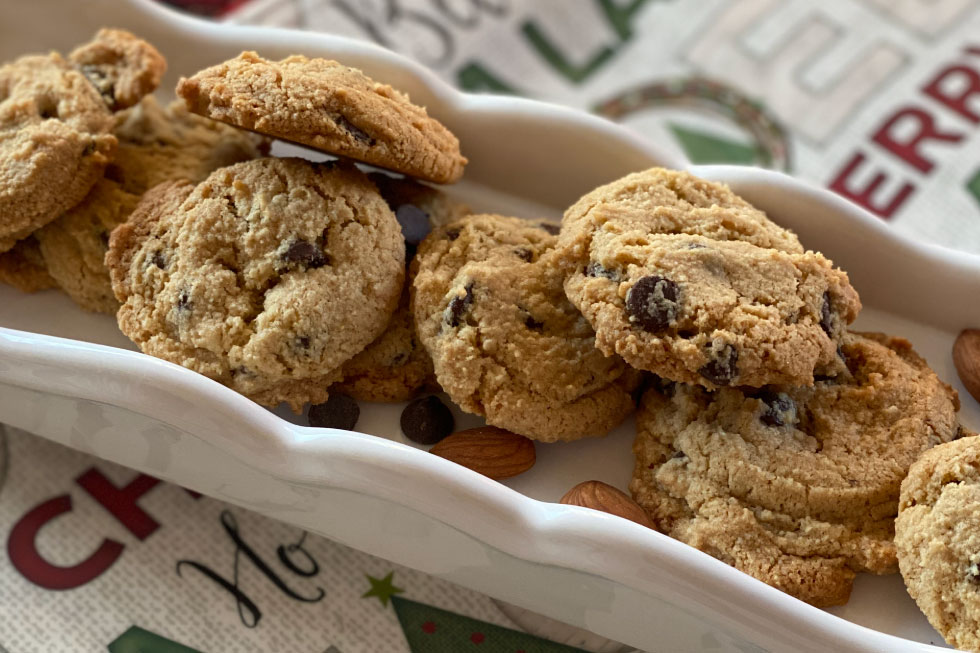 Almond Flour Chocolate Chip Cookies

Here's a twist on the traditional Chocolate Chip Cookie that skips the all purpose flour, instead uses almond flour.  Perfect if you are looking for a gluten free, grain free, lower carb option for a holiday treat (or anytime, really).  You can substitute a crushed peppermint stick ¼ cup of the chocolate chips for a Christmas twist!
What You Need
1/2 cup butter, room temperature

3/4 cup coconut palm sugar or brown sugar

1 large egg

1 teaspoon vanilla 

2 1/2 cups Open Nature Almond Flour

1 teaspoon baking soda

1/2 teaspoon salt

1 cup dark chocolate chips
 How It's Made:
Preheat the oven to 325 degrees. 

In a large bowl, cream together the butter and sugar until well combined. Add egg and vanilla; continue beating. 

In a separate bowl, combine the almond flour, baking soda and salt. Stir this mixture into the butter mixture. Add chocolate chips and mix until combined. 

Place small spoonfuls onto a cookie sheet lined with parchment.  Press dough slightly if crispy cookies are desired. 

Bake for 9-12 minutes or until lightly browned. 

Remove from the oven and allow to cool before serving.
Calories 153
Total Fat 11g
Protein 3g
Sodium 55mg
Fiber 1g
Sugars 11g
Ready to Start Shopping?
Get everything you need online!
Shop Online