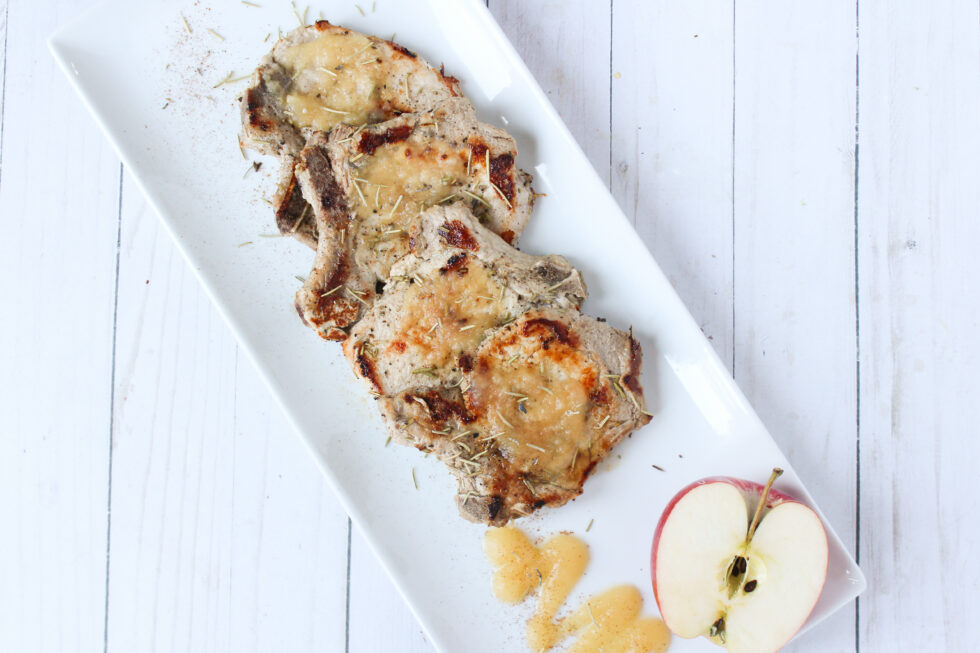 Apple Sauce Pork Chops

Dinner can be a messy task with all of the clean up so in-order to take down. Grab a bag of your favorite freezer vegetable or a microwave-ready bag from produce and you've got yourself a meal in under 15 minutes!
What You Need
1 Tbsp. butter

1 shallot

1 Tbsp. dried rosemary

½ Tbsp. dried granulated garlic

1 lb Pork chops

⅓ c. Apple Sauce (or our Crockpot Pear-Apple Sauce)

Pinch of cinnamon to finish
 How It's Made:
Preheat cast iron skillet to medium high heat

Dice shallot

Place butter and shallot in pan to crisp

Season pork chops with rosemary, garlic and salt and pepper as desired

Sear on one side for 4 minutes

Lower the heat to medium and sear on the opposite side for 5 minutes and add on the apple sauce evenly between the pork chops on top to keep it moist

Sprinkle on a pinch of cinnamon

Turn the pan off and serve it up warm with your favorite easy side dish
Calories 165
Total Fat 7g
Protein 23g
Sodium 211mg
Fiber 0g
Sugars 2g
Ready to Start Shopping?
Get everything you need online!
Shop Online