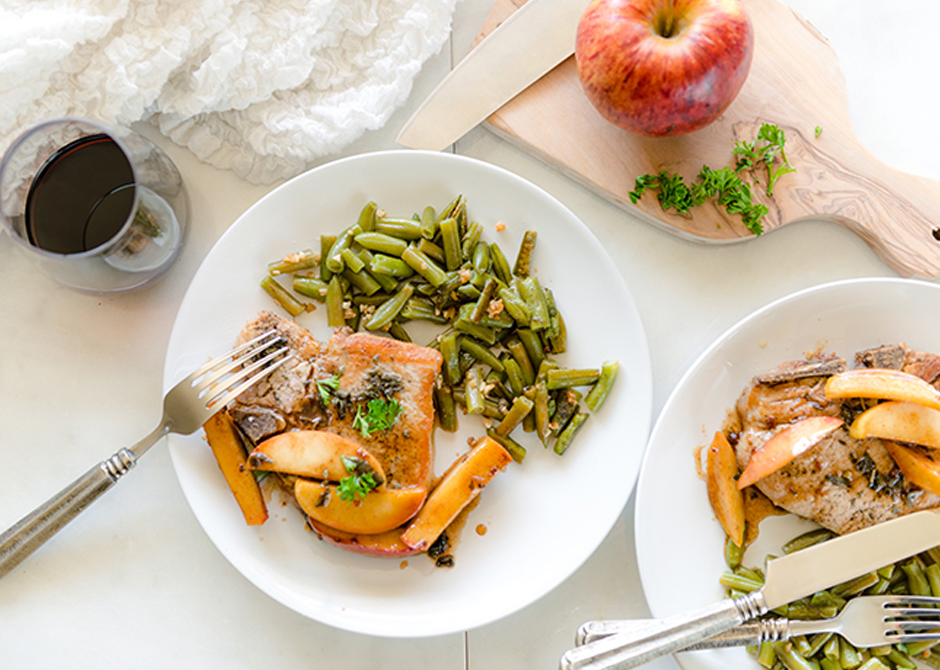 Baked Apple Pork Chops with Green Beans

Nothing says down-home goodness like sweet and savory pork chops with a side of green beans. Make them for your guests the next time you're hosting and we guarantee they'll leave asking for the recipe.
What You Need:
4 Tbsps olive oil, divided

4 pork chops (8 oz each), ¾ – 1 inch thick, bone-in

1 Tbsp fresh sage, chopped

Salt and freshly ground black pepper to taste

16 oz green beans, trimmed

2 Tbsps unsalted butter

2 apples, peeled, cored, and sliced

1/4 tsp ground cinnamon

3 Tbsps maple syrup

2 Tbsps chopped fresh parsley leaves

3 cloves garlic, minced

2 Tbsps brown sugar
 How It's Made:
Preheat oven to 400°F. Lightly oil a baking sheet or coat with nonstick spray.

In a large skillet over medium-high heat, add 1 Tbsp olive oil. Rub both sides of the pork chops with sage; season with salt and pepper, to taste. Add to skillet and sear both sides until golden brown, about 2 to 3 minutes.

Place pork chops and green beans in a single layer onto prepared baking sheet. Drizzle green beans with olive oil and sprinkle with garlic; season with salt and pepper, to taste. Place into oven and roast until pork is completely cooked through, reaching an internal temperature of 145°F, about 12 – 15 minutes.

Return skillet to medium-high heat and melt butter. Add apples, brown sugar, cinnamon and nutmeg. Cook, stirring occasionally, until apples just begin to soften, about 3 to 4 minutes. Stir in maple syrup, stirring occasionally until the sauce thickens, about 5 minutes.

Serve pork chops immediately, topped with apple mixture, garnished with parsley, if desired.
Calories 411
Total Fat 25g
Chol 67mg
Protein 18g
Sodium 284mg
Total Carbs 30g
Fiber 3g
Sugars 25g
Ready to Start Shopping?
Get everything you need to make our Baked Apple Pork Chops with Green Beans online or in-store!
Shop Online
Find My Store
Ready for a Second Helping of Health and Wellness?
Download our quarterly guide for an exclusive taste of the latest health and wellness trends, brought to you by Market Street's in-house nutrition experts.