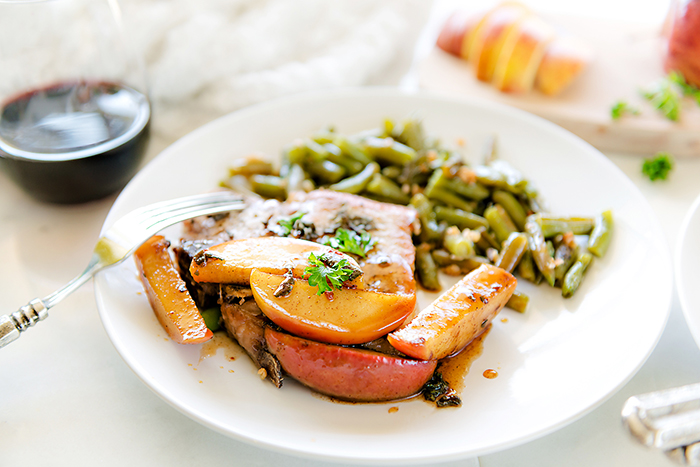 Baked Apple Pork Chops and Green Beans

This recipe for baked apple pork chops with green beans is a quick and easy meal that combines so many delicious fall flavors. A change in seasons brings a whole new assortment of fresh fruits and vegetables. This include grapes, pears, butternut squash, turnips and new crop apples! If you're looking for a little inspiration and a great way to enjoy crisp and sweet new crop apples, this recipe has everything you'll need to satisfy your cravings.

Apples are obviously a great option for snacking and a great addition to any lunchbox because they provide important fiber, vitamins and minerals, but they also make a great, healthy addition to your dinners. A 2013 study by Harvard School of Public Health found that people who eat apples regularly had a 23% reduced risk of developing Type 2 Diabetes. Apples are also considered to be low on the glycemic index which measures how different foods impact blood sugar levels. This means that a medium sized apple can have lasting positive effects on your blood sugar levels. So, an apple a day really does keep the doctor away!

Apples are only part of what makes this recipe healthy and delicious. It also includes a good source of lean protein. Including 25-30 grams of lean protein in each meal will help keep you full and satisfied longer throughout the day. Quick, easy and healthy – pretty much everything you could need from a family dinner!

Baked Apple Pork Chops and Green Beans

 

Ingredients:

• 4 tablespoons olive oil, divided

• 4 (8-ounce) pork chops, bone-in, 3/4-inch to 1-inch thick

• 1 tablespoon chopped fresh sage

• Kosher salt and freshly ground black pepper, to taste

• 16 ounces green beans, trimmed

• 3 cloves garlic, minced

• 2 tablespoons unsalted butter

• 2 apples, peeled, cored and sliced

• 2 tablespoons brown sugar

• 1/4 teaspoon ground cinnamon

• Pinch of nutmeg

• 3 tablespoons maple syrup

• 2 tablespoons chopped fresh parsley leaves

 

Directions:

1. Preheat oven to 400 degrees F. Lightly oil a baking sheet or coat with nonstick spray.

2. In a large skillet over medium high heat, add 1 tablespoon olive oil. Rub both sides of the pork chops with sage; season with salt and pepper, to taste. Add to the skillet and sear both sides until golden brown, about 2-3 minutes.

3. Place pork chops and green beans in a single layer onto the prepared baking sheet. Drizzle green beans with olive oil and sprinkle with garlic; season with salt and pepper, to taste.  Place into oven and roast until the pork is completely cooked through, reaching an internal temperature of 145 degrees F, about 12-15 minutes.

4. Return skillet to medium high heat and melt butter. Add apples, brown sugar, cinnamon and nutmeg. Cook, stirring occasionally, until apples just begin to soften, about 3-4 minutes. Stir in maple syrup, stirring occasionally, until the sauce thickens, about 5 minutes. Serve pork chops immediately, topped with apple mixture, garnished with parsley, if desired.
Ready to Start Shopping?
Get everything you need to make our Baked Apple Pork Chops and Green Beans online or in-store!
Shop Online
Find My Store
Ready for a Second Helping of Health and Wellness?
Download our quarterly guide for an exclusive taste of the latest health and wellness trends, brought to you by Market Street's in-house nutrition experts.