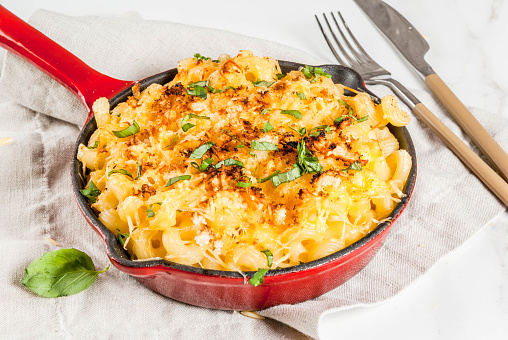 Baked Mac & Cheese

From Thanksgiving dinner to after-school specials, mac and cheese has a special place in our hearts year-round. Preheat your oven to reignite your love for this traditional soul food with our hearty recipe!
What You Need:
3 Tbsps plain, dry breadcrumbs

1 tsp extra-virgin olive oil

1/4 tsp paprika

1 package (16 oz or 10 oz) frozen spinach, thawed

1 ¾ cups low-fat milk, divided

3 Tbsps all-purpose flour

2 cups shredded extra-sharp cheddar cheese

1 cup low-fat cottage cheese

1/8 tsp ground nutmeg

1/4 tsp salt

Freshly ground pepper to taste

8 oz (2 cups) whole-wheat elbow macaroni or penne
 How It's Made:
Put a large pot of water on to boil. Preheat oven to 450°F. Coat an 8-inch square (2-quart) baking dish with cooking spray.

Mix breadcrumbs, oil and paprika in a small bowl. Place spinach in a fine-mesh strainer and press out excess moisture.

Heat 1 ½ cups milk in a large heavy saucepan over medium-high heat until steaming.

Whisk remaining ¼ cup milk and flour in a small bowl until smooth; add to hot milk and cook, whisking constantly, until the sauce simmers and thickens, 2 to 3 minutes.

Remove from heat and stir in cheddar until melted. Stir in cottage cheese, nutmeg, salt and pepper.

Cook pasta for 4 minutes, or until not quite tender. (It will continue to cook during baking.) Drain and add to cheese sauce; mix well.

Spread half the pasta mixture on prepared baking dish. Spoon spinach on top. Top with remaining pasta; sprinkle with the breadcrumb mixture.

Bake casserole until bubbly and golden, 25 to 30 minutes.
Calories 576
Total Fat 22g
Chol 69mg
Protein 37g
Sodium 917mg
Total Carbs 63g
Fiber 9g
Sugars 0g
Ready to Start Shopping?
Get everything you need to make our Baked Mac & Cheese online or in-store!
Shop Online
Find My Store
Ready for a Second Helping of Health and Wellness?
Download our quarterly guide for an exclusive taste of the latest health and wellness trends, brought to you by Market Street's in-house nutrition experts.