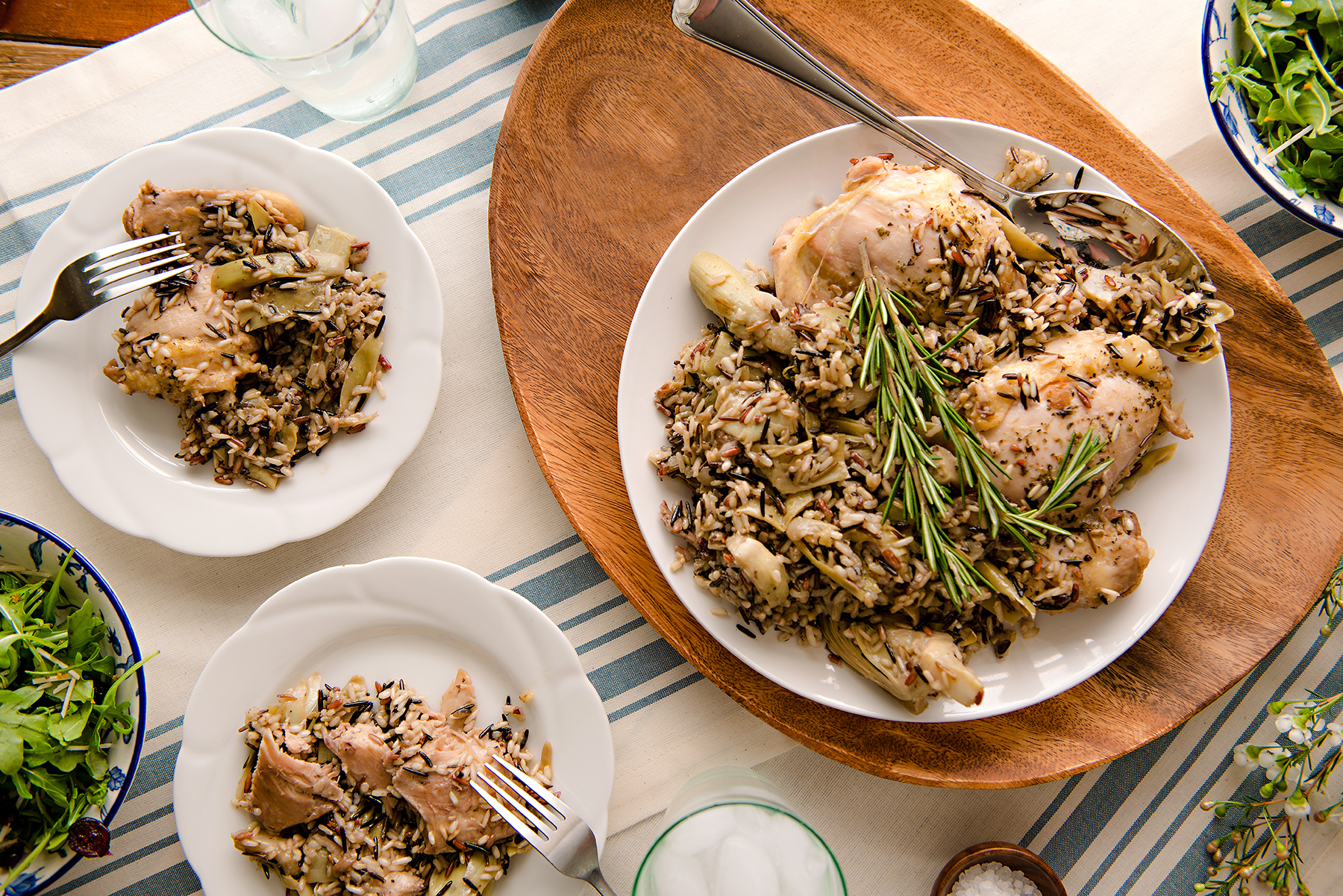 Balsamic Chicken

This recipe for marinated balsamic chicken is slow going, but a fast favorite.
What You Need:
1/4 cup + 2 Tbsp Italian salad dressing

3 Tbsps balsamic vinegar

1 1/2 Tbsp honey

1/8 tsp crushed red pepper flakes, to taste

1 1/4 lbs chicken breast tenderloins

2 Tbsps olive oil

Salt and freshly ground black pepper

1 lb frozen green beans

1 1/2 cups matchstick carrots

1 cup grape tomatoes, halved
 How It's Made:
In a mixing bowl, whisk together salad dressing, balsamic vinegar, honey and red pepper flakes, set aside.

Heat olive oil in a 12-inch skillet over medium-high heat. Season chicken with salt and pepper to taste, then place chicken evenly in skillet.

Cook about 6 – 7 minutes, rotating once halfway through cooking, until chicken has cooked through. meanwhile, chop asparagus and tomatoes.

Add half the dressing mixture to skillet and rotate chicken to evenly coat. Transfer chicken to a large plate or a serving platter while leaving sauce in skillet.

Add asparagus and carrots to skillet, season with salt and pepper to taste and cook, stirring frequently, until crisp tender, about 4 minutes. Transfer veggies to plate or platter with chicken.

Add remaining dressing mixture to skillet and cook, stirring constantly, until thickened, about 1 minute.

Add tomatoes to chicken and veggies and drizzle dressing mixture in pan over top (or return chicken and veggies to pan and toss to coat).
Calories 499
Total Fat 22g
Chol 55mg
Protein 21g
Sodium 1536mg*
Total Carbs 52g
Fiber 4g
Sugars 20g
*This recipe is high in sodium
Ready to Start Shopping?
Get everything you need to make our One Pan Balsamic Chicken and Veggies online or in-store!
Shop Online
Find My Store
Ready for a Second Helping of Health and Wellness?
Download our quarterly guide for an exclusive taste of the latest health and wellness trends, brought to you by Market Street's in-house nutrition experts.