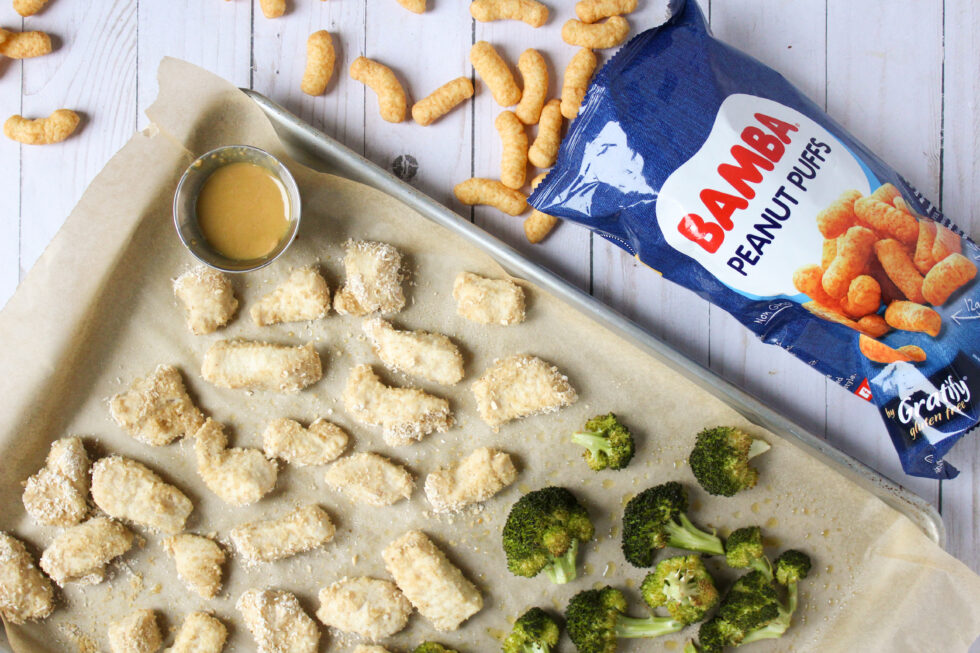 Bamba Peanut Butter Puffs and Oat Crusted Chicken Tenders

Snacks don't always need to stay just in their traditional form. Take these Bamba peanut butter puffs for example. Let's say there isn't enough to go around as a snack but just enough left to be revamped into a recipe! These are great for dinner as we head into National Family Meals Month next month and used as leftovers for school (or work) lunches!
What You Need
Sheet Pan
1 lb chicken breast

½ c. oats

1 c. bamba peanut puffs

Salt and pepper as desired

2 medium heads broccoli

Spray cooking oil
Sauce
¼ c. peanut butter

2 Tbsp. soy sauce

2 Tbsp. lime juice

½ Tbsp. maple syrup
 How It's Made:
Preheat oven to 350

Slice chicken breasts into 1 inch pieces

Combine Oats and puffs into a blender and blend until a dust-like texture and pour into a separate bowl

Toss chicken into mixture and coat fully and place on pan

Cut broccoli into small florets and lightly spray with cooking oil, salt and pepper

Bake for 35 minutes

Combine all sauce ingredients
Calories 322
Total Fat 14g
Protein 36g
Sodium 1040mg
Fiber 3g
Sugars 4g
Ready to Start Shopping?
Get everything you need online!
Shop Online