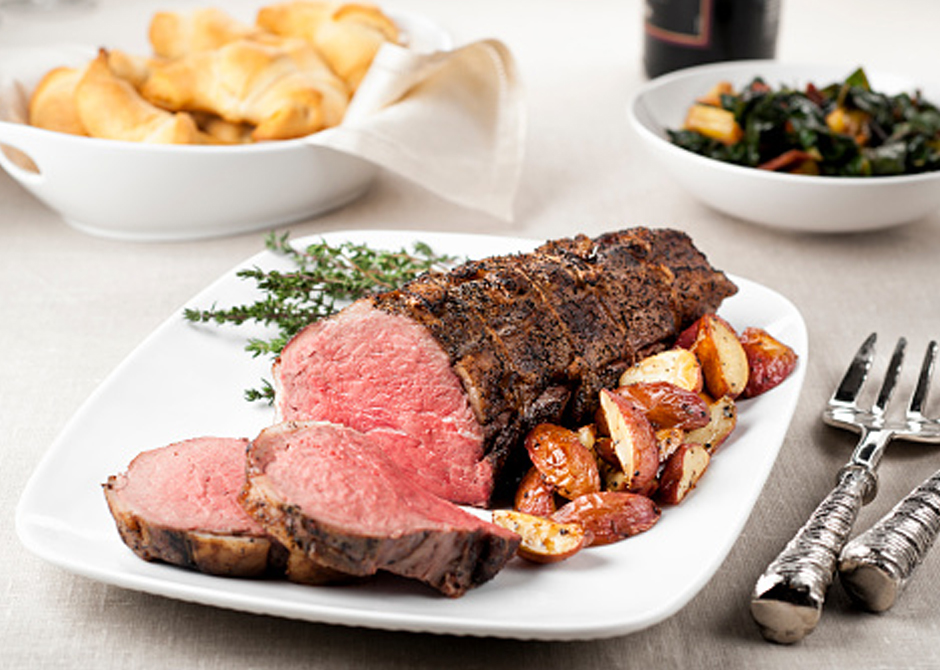 Bistro Beef Tenderloin

This herb-rubbed tenderloin recipe is a stunner for meat-lovers and moderates alike!
What You Need:
3 lb beef tenderloin, trimmed of fat

2 Tbsps extra-virgin olive oil

1 tsp kosher salt

1/2 tsp freshly ground pepper

2/3 cup chopped mixed fresh herbs (chives, parsley, chervil, tarragon, thyme)

2 Tbsps Dijon mustard
 How It's Made:
Preheat oven to 400°F.

Tie kitchen string around tenderloin in three places, so it doesn't flatten while roasting.

Rub tenderloin with oil; pat on salt and pepper. Place in a large roasting pan.

Roast until a thermometer inserted into the thickest part of the tenderloin registers 140°F for medium-rare, about 45 minutes, turning two or three times during roasting to ensure even cooking.

Transfer to a cutting board; let rest for 10 minutes. Remove string.

Place herbs on a large plate. Coat tenderloin evenly with mustard; then roll in herbs, pressing gently to adhere. Slice and serve.
Calories 185
Total Fat 9g
Chol 67mg
Protein 24g
Sodium 176mg
Total Carbs 1g
Fiber 0g
Sugars 0g
Ready to Start Shopping?
Get everything you need to make our Balsamic Chicken online or in-store!
Shop Online
Find My Store
Ready for a Second Helping of Health and Wellness?
Download our quarterly guide for an exclusive taste of the latest health and wellness trends, brought to you by Market Street's in-house nutrition experts.