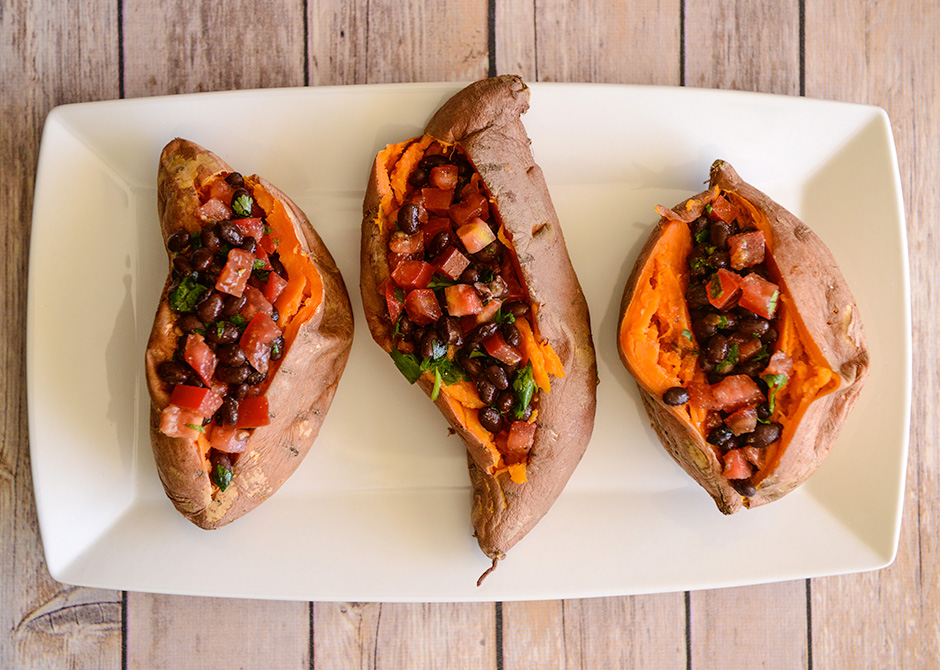 Black Bean and Sweet Potato Salad

Meet the salad that does it all: It makes its own bowl, it's packed with protein and tastes like a slice of Southwest-inspired heaven.
What You Need:
4 medium-sized sweet potatoes
1, 15-ounce can of black beans, rinsed
1 cup of salsa or your favorite picante sauce
Sour cream for topping (optional)
 How It's Made:
Poke sweet potatoes with a fork in several places. Microwave on high until tender. (12 to 15 minutes)
Meanwhile, in a medium-sized microwaveable bowl, combine beans and salsa; microwave on high until heated through. (2 to 3 minutes)
When cool enough to handle, slash each sweet potato lengthwise, press open to make a well in the center and spoon the bean mixture into the well. Top each with a dollop of sour cream and a sprinkle of cilantro.
Calories 258
Total Fat 4g
Chol 0mg
Protein 9g
Sodium 270 mg
Total Carbs 58g
Fiber 15g
Sugars 15g
Ready to Start Shopping?
Discover everything you need to pack a lunch you'll love online or in-store!
Shop STREETside
Find My Store
Ready for a Second Helping of Health and Wellness?
Download our quarterly guide for an exclusive taste of the latest health and wellness trends, brought to you by Market Street's in-house nutrition experts.