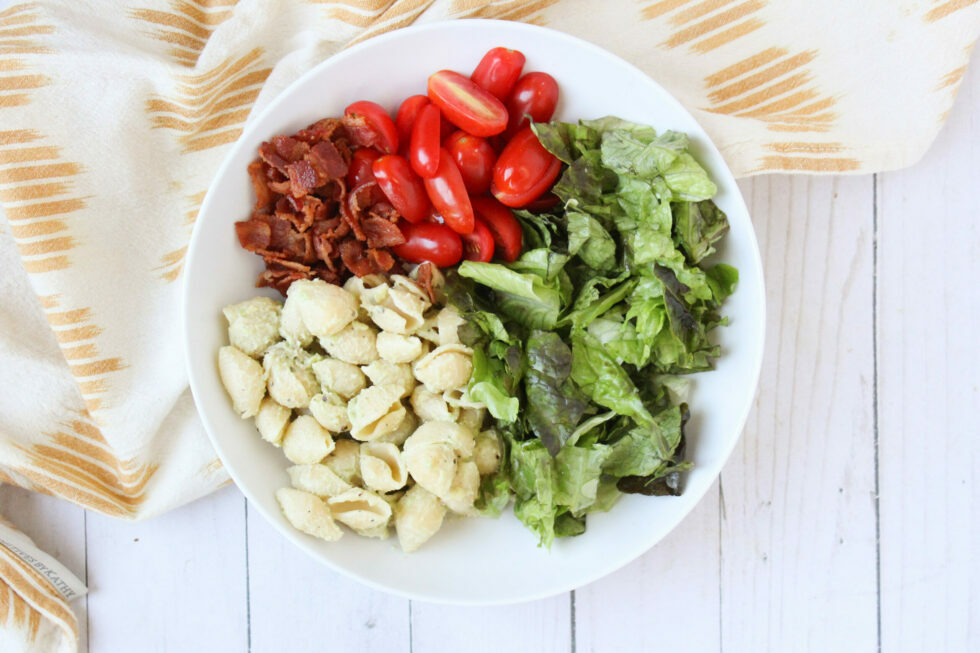 BLT Pasta Salad

Plant protein is still super trendy and this chickpea pasta delivers just that. A creamy BLT salad is an excellent dinner for your littles and great for you next day as work lunch leftovers. Don't pass up this recipe!
What You Need
1, 8oz Box Chickpea Pasta
1, 10oz pkg cherry tomatoes
1 small head lettuce
½ pkg. Bacon
1 medium avocado
¼ c .Ultra filtered milk
¼ c. Plain Nonfat Greek Yogurt
2 tsp. Ranch Seasoning
Salt and pepper to taste
 How It's Made:
Cook pasta according to package directions

In a medium bowl mash the avocado

Add milk, greek yogurt and ranch seasoning to the avocado and combine

Combine the pasta and avocado mixture

Cook bacon in a pan to desired crispiness

Slice tomatoes in half

Roughly chop lettuce in small pieces

Divide all ingredients evenly into 4 separate bowls for a unique presentation
Calories 286
Total Fat 15g
Cholesterol 13mg
Sodium 437mg
Carbohydrates 4g
Fiber 0.5g
Sugar 3g
Protein 14g
Ready to Start Shopping?
Get everything you need online!
Shop Online