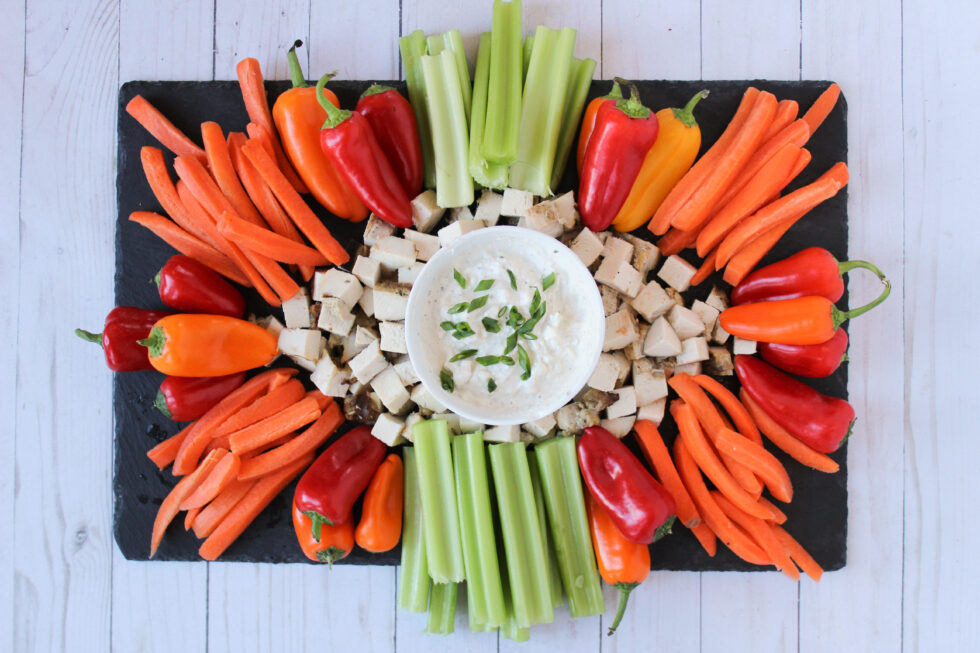 Blue Cheese Greek yogurt Dip

With the big game right around the corner snack and meal options start increasing and we want to help you along with a few more healthful options. So we give you a play on the traditional wing basket! Our ReadyMeals grilled chicken is the perfect hosting hack with less time being spent in the kitchen and a better option than it's traditional breaded and fried counterpart. You can always count on us to suggest a few extra veggies as well. This board will come together in less than 10 minutes for your party.
What You Need
4 oz Blue Cheese
½ c. Fat Free Greek Yogurt
⅛ tsp. Cayenne
⅛ tsp. Ground Dried Mustard
¼ tsp. Black Pepper
1 c. Tri-Colored Peppers
1 c. Celery
1 c. Carrot Sticks
1 lb. ReadyMeals Grilled Chicken
 How It's Made:
In a small serving bowl combine the blue cheese and yogurt to mix well

On a rectangular platter set the bowl in the center

If you're chicken is not already diced in 1-inch cubes, do so now

With the chicken, place it in a football shape around the bowl

Fill in the rest of the rectangle with the vegetables and serve
Calories 94
Total Fat 3g
Cholesterol 30g
Sodium 180mg
Carbohydrates 64g
Fiber 1g
Sugar 3g
Protein 14g
Ready to Start Shopping?
Get everything you need online!
Shop Online