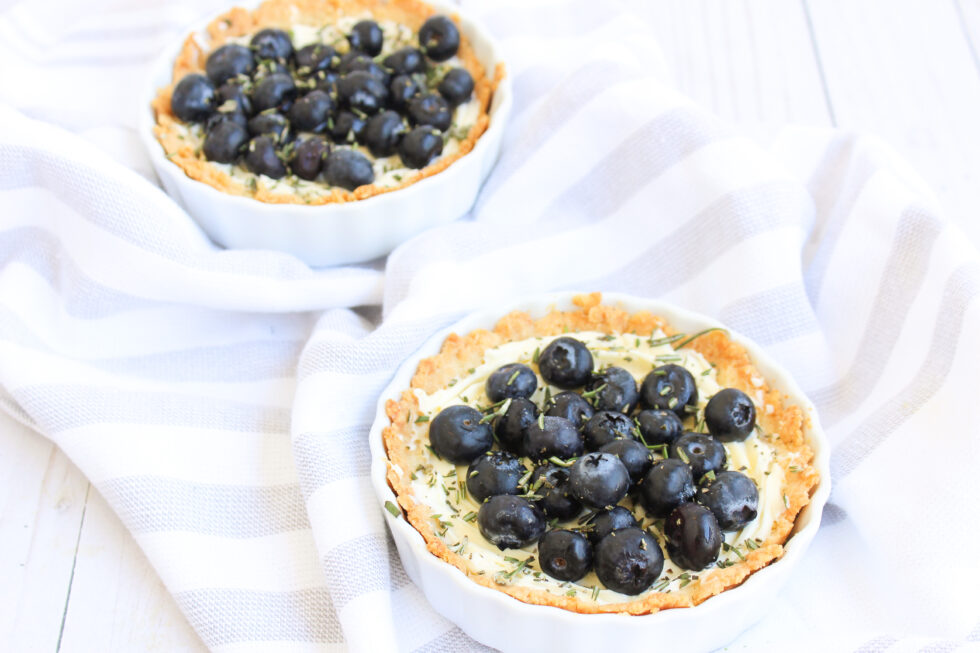 Blueberry Rosemary Lemon Curd Goat Cheese Tart

A fun twist on a classic with sweet and spicy notes that you're sure to enjoy.
What You Need
Crust
1 c. Flour

½ Tbsp. Sugar
Pinch of Salt
6 Tbsp. Butter, frozen cubed
1 Egg
1 ½ Tbsp. Cream
1 tsp. Vanilla extract
1 lemon, zested and juiced (½ of it)
Filling
4oz goat cheese

4 Tbsp heavy cream
3 Tbsp lemon curd
1 lemon, zested and juiced (½ of it)
1 pint Blueberries
1, 1oz rosemary, minced
 How It's Made:
Combine flour, sugar, salt in food processor

Add in butter and process until you see small pea-sized texture throughout the dough

Add egg, cream, vanilla extract and ½ of the lemon juice and zest

Press tightly onto single serve dishes or a removable tart pan

Let dough chill for 30-60 minutes

Preheat oven to 400 degrees and bake for 20 minutes until the tips of the crust are golden brown

In a separate bowl combine goat cheese, heavy cream, lemon curd, and lemon juice and zest

Combine until smooth and set back in fridge

Remove crusts from the oven and let them cool completely

Add the curd evenly among the crusts

Top with blueberries and rosemary
Calories 420
Total Fat 29g
Protein 9g
Sodium 418mg
Fiber 1.5g
Sugars 11g
Ready to Start Shopping?
Get everything you need online!
Shop Online