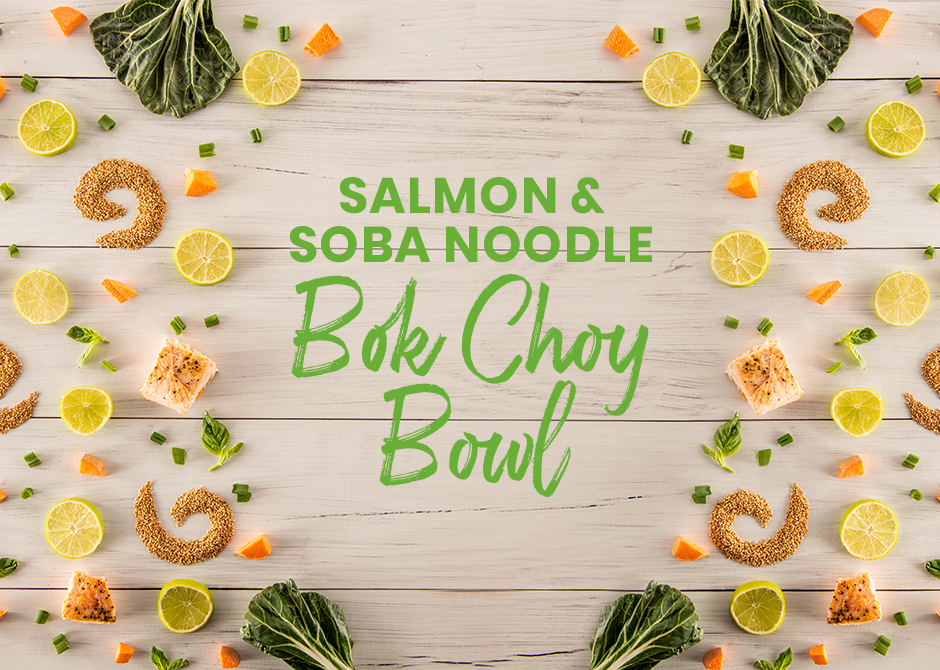 Salmon & Soba Noodle Bok Choy Bowl

Joy to bok choy! This leafy green is the perfect complement to the ingredients found in this roasted winter warmer. Help it go for a dip with savory salmon and soba noodles for a delicious dinner that comes in under 500 calories.
2 medium sweet potatoes, cut into wedges

2 Tbsps extra virgin olive oil

Kosher salt and pepper

2 Tbsps Italian seasoning

3 Tbsps toasted sesame oil

1-inch fresh ginger, grated

1 clove garlic, minced or grated

Juice from 1 lime

3 Tbsps low-sodium soy sauce or tamari

1 Tbsp honey
2 tsps chili paste

4 salmon fillets

4 baby bok choy, halved

12 oz soba noodles

4 cups low sodium chicken or veggie broth

¼ cup rice vinegar

Toasted sesame seeds, green onions

Basil for serving
Preheat oven to 425°F.

Pour sesame oil, ginger, garlic, lime juice,2 Tbsps of soy sauce, honey, and chili paste in a glass jar and shake well.

Spread sweet potato wedges across a rimmed baking sheet. Drizzle with olive oil. Season with a pinch of salt, pepper and Italian seasoning. Toss potatoes until evenly coated and bake in preheated oven for 20 minutes.

While potatoes wedges are baking, cook soba noodles per the instructions. Drain noodles and set aside.

In a pot, bring the broth, rice vinegar, and 1 Tbsp of soy sauce to a boil over high heat. Reduce heat and keep warm.

Remove potatoes from oven and arrange salmon and bok choy around them. Spoon half the sauce over salmon, then bake for another 10-15 minutes.

Remove potatoes, salmon and bok choy from oven. Add remaining sauce and gently toss the whole mixture to coat.

Spoon veggies and salmon into bowls and ladle broth over it. Use the sesame seeds and herbs as a garnish and dig in!

Calories 425
Total Fat 17g
Chol 45mg
Protein 29g
Sodium 1450mg
Total Carbs 43g
Fiber 4g
Sugars 17g

Get everything you need online or in-store!


Download our quarterly guide for an exclusive taste of the latest health and wellness trends, brought to you by Market Street's Registered Dietitians.