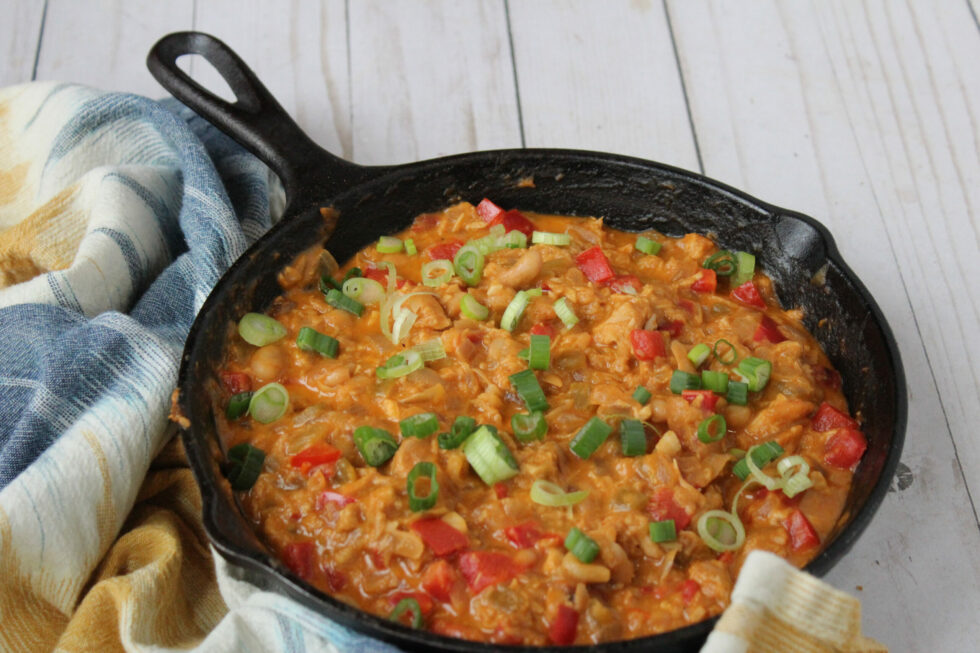 Buffalo Chicken Chili Skillet Dip

The Signature Select Buffalo sauce is our secret sauce here! It has 5 calories per service and when looking at the ingredients it's not your traditional list that's loaded with butter. So while we love butter, there are ways to incorporate your favorite flavors with lower calories. This dip is hearty and perfect for even the non-buffalo flavor lovers, like our Dietitian Taylor, and you can bet it's paired with a higher fiber and protein chip to get more nutritional bang for your buck.
What You Need
1 Tbsp. Avocado Oil
1 c. Shredded Chicken
½ c. White Beans, rinsed and drained
½ Medium Yellow Onion
½ Red Bell Pepper
1, 4oz can Green Chilies, Drained 
4 Cloves Garlic
¼ c. Plain Non-Fat Greek Yogurt
1 ½ c. Shredded Cheddar Cheese
⅓ c. Signature Select Buffalo Sauce
2 Green Onions
 How It's Made:
Roughly chop chicken

Dice onion

Dice bell pepper

Mince garlic

Slice green onion

In a cast iron skillet, add avocado oil

Add onion, bell pepper and garlic to the pan and sweat the vegetables for 5-10 minutes

Add in green chiles, beans, chicken, buffalo sauce and warm through

Add Greek yogurt and cheddar cheese and stir until incorporated (if there is standing liquid let it boil off until desired consistency)

Pull off the heat and garnish the green onions
Calories 188
Total Fat 13g
Cholesterol 31mg
Sodium 724mg
Carbohydrates 10g
Fiber 1g
Sugar 1g
Protein 9g
Ready to Start Shopping?
Get everything you need online!
Shop Online