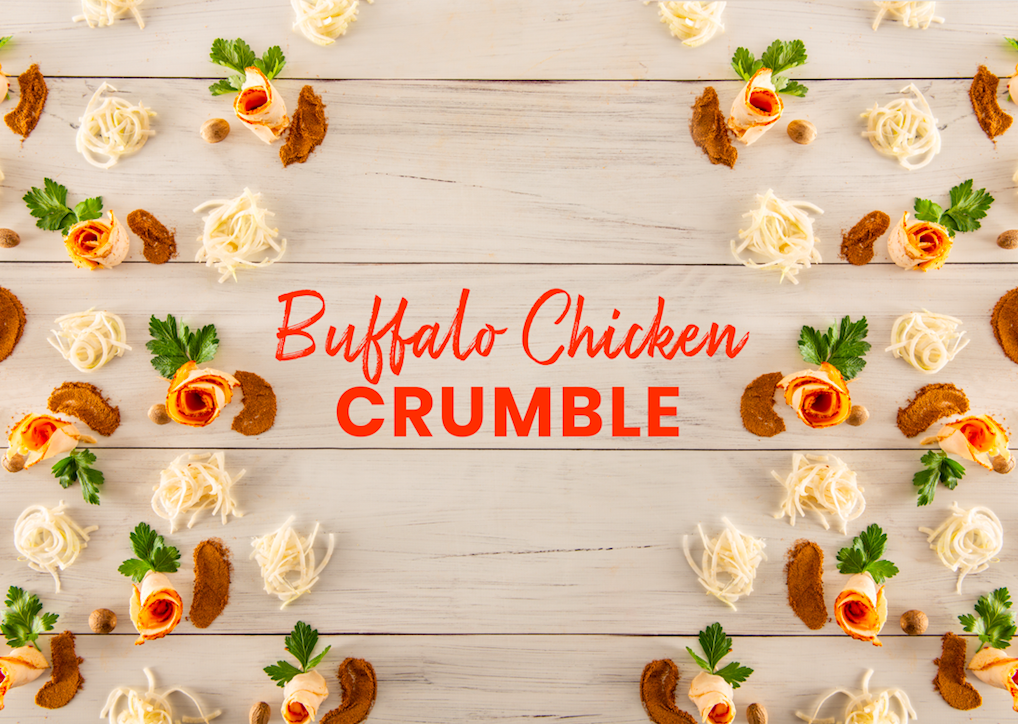 Buffalo Chicken Crumble

Gather 'round the table for a sharable dinner with all the flair of a French gratin and the wholesomeness of a pot pie. With only 207 calories and 13g of fiber per serving, you can embrace homestyle cooking without abandoning your new year health goals.

Make your crumble sizzle by opting for Boar's HeadⓇ Blazing Buffalo Chicken over higher processed alternatives.
3 lbs kohlrabi , (5-6 medium), trimmed, peeled and thinly sliced

1⅓ cups Fairlife fat-free milk, divided

3 Tbsps all-purpose flour

4 ounces thinly-sliced

Boar's HeadⓇ Blazing Buffalo Chicken

, cut into strips

¼ cup shredded sharp Cheddar cheese
½ tsp salt

¼ tsp freshly ground black pepper

½ tsp parsley

Pinch of freshly grated nutmeg

⅓ cup fresh breadcrumbs, preferably whole-wheat
Pro Tip: Make fresh breadcrumbs by trimming the crusts from firm whole-wheat bread. Tear bread into pieces and pulse in a food processor until crumbs are coarse. One slice of bread makes about ½ cup fresh crumbs.
Place large pot of water over medium-high heat, preheat oven to 400°F and coat a shallow baking dish with non-stick spray.

Once the water has boiled, drop in kohlrabi and cook for 20 to 25 minutes, until tender. Drain the water and set aside.

Pour one cup milk into a saucepan over medium heat. Pour the remaining ½ cup of milk into a small bowl and stir in flour until the mixture thickens.

Pour into saucepan with steaming milk. Cook for 2-3 minutes.

Remove from heat and add chicken, cheese, salt, pepper, nutmeg, and parsley. Mix well.

Layer kohlrabi on bottom of your baking dish, followed by blazing buffalo chicken and homemade cheese sauce. Top with breadcrumbs.

Place crumble in oven and bake for 30-40 minutes until warm and crispy and serve immediately.

Calories 207
Total Fat 6g
Chol 31mg
Protein 18g
Sodium 433mg
Total Carbs 26g
Fiber 13g
Sugars 10g


This meal has been tagged as a fiber fresh pick by our team of nutrition experts. Shop more fiber filled foods by keeping an eye out for tagged items in-store!

Get everything you need online or in-store!


Download our quarterly guide for an exclusive taste of the latest health and wellness trends, brought to you by Market Street's Registered Dietitians.