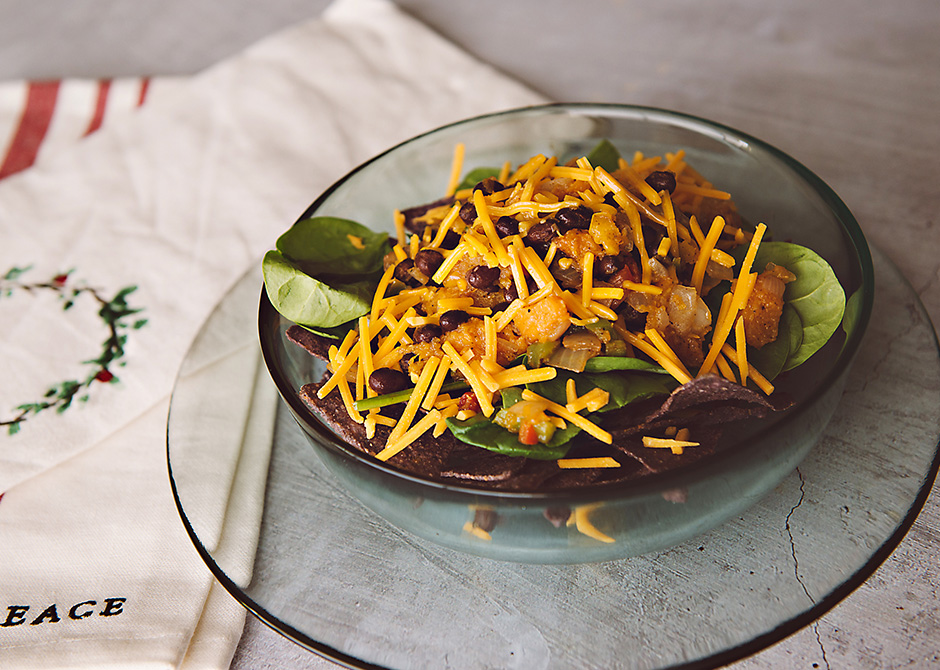 Butternut Squash Taco Salad

This combination of textures and variety of flavors will bring something irresistible to your next gathering.

Serving Size: 4
What You Need:
2 cups Market Street's fresh-cut butternut squash
1 Tbsp. olive oil
1 cup Market Street's fresh-cut onion
1 cup Market Street's fresh-cut bell peppers
1 can low-sodium black beans, drained and rinsed
1/4 tsp. chili powder
1/4 tsp. Paprika
1/4 tsp. Cumin
Salt, to taste
Pepper, to taste
Blue corn tortilla chips
1 cup shredded cheese
4 cups fresh spinach
 How It's Made:
Place fresh cut squash in a microwave-safe bowl with about 1 inch of water. Microwave on high for 9-10 minutes, or until tender when pricked with a fork. Mash with a potato masher.
While the squash is cooking, heat a skillet with 1 Tbsp. olive oil. Saute the onion and bell pepper until they begin to soften. (It may help to cover the skillet while sauteing.) Add black beans and spices. Cook for 1-2 more minutes. Add the mashed squash and mix well.
Layer your salad in a large bowl with tortilla chips, spinach, and lastly, the bean and squash mixture (3/4-1 cup). Top with shredded cheese and sour cream before enjoying!
Calories 304
Total Fat 12g
Saturate Fat 4g
Trans Fat 0g
Chol 22mg
Sodium 294 mg
Total Carbs 38g
Fiber 7g
Sugars 4g
Protein 14g
Start Shopping!
Get everything you need to make our butternut squash taco salad online or in-store!
Shop STREETside
Find My Store
Ready for a Second Helping of Health and Wellness?
Download our quarterly guide for an exclusive taste of the latest health and wellness trends, brought to you by Market Street's in-house nutrition experts.