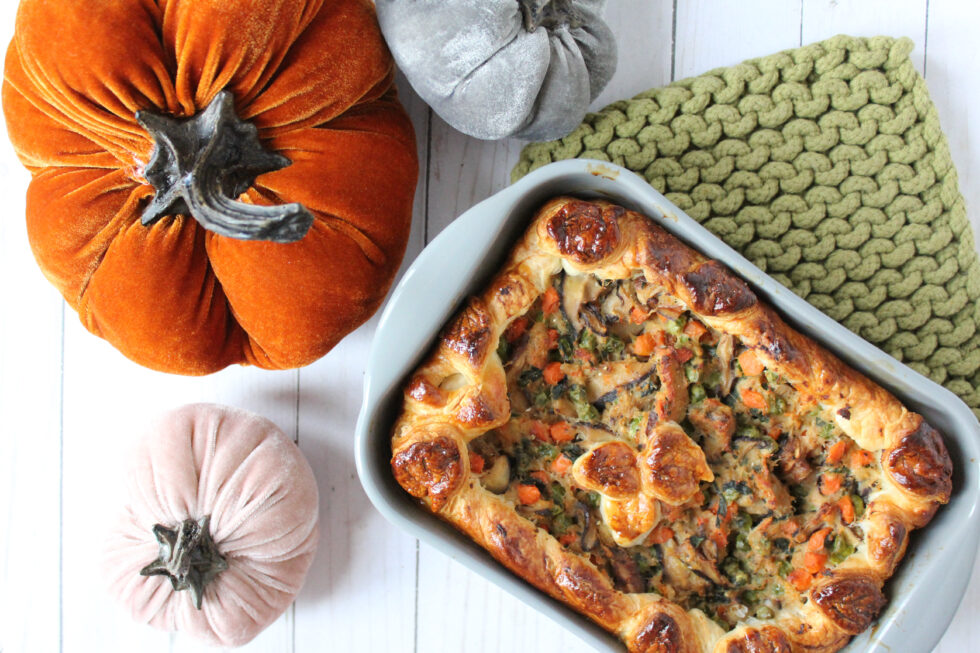 Canned Crab Pot Pie

Welcome to another Seafood Saturday! As temperatures are starting to drop here in the south, this classic pot pie recipe with a twist of canned crab is a great way to get in those heart healthy omega threes while enjoying the heartiness of the dish.
What You Need
12 oz. canned crab

1, 16 oz. bag frozen peas & carrots

1, 10 oz. bag frozen mushrooms

1 lemon

2 Tbsp. parsley

2 Tbsp. clam juice

¼ c. canned pumpkin

1 tsp. Salt

2 tsp. Pepper

½ tsp. garlic powder

¼ tsp. Onion powder

1 sheets puff pastry

3 Tbsp. Milk

2 Tbsp. flour

1 egg
 How It's Made:
Preheat oven to 350 degrees

In a large pan saute frozen vegetables and let all the water it creates, evaporate

Add in lemon zest and juice, parsley, clam juice, canned pumpkin, salt and pepper, garlic and onion powder

Drain canned crab and combine into vegetables

Sprinkle flour over mixture and combine

Add in milk and combine

Thinly roll puff pastry and cut to 8×8 dish and place inside

Use leaf and pumpkin cookie cutters to cut out shapes to put on the sides of the crust

Pour mixture into dish and fold over any excess dough and place shapes on crust sides

Crack and whisk an egg and brush onto crust

Bake for 25 minutes until golden brown
Calories 401
Total Fat 15g
Protein 29g
Sodium 913mg
Fiber 4g
Sugars 7g
Ready to Start Shopping?
Get everything you need online!
Shop Online