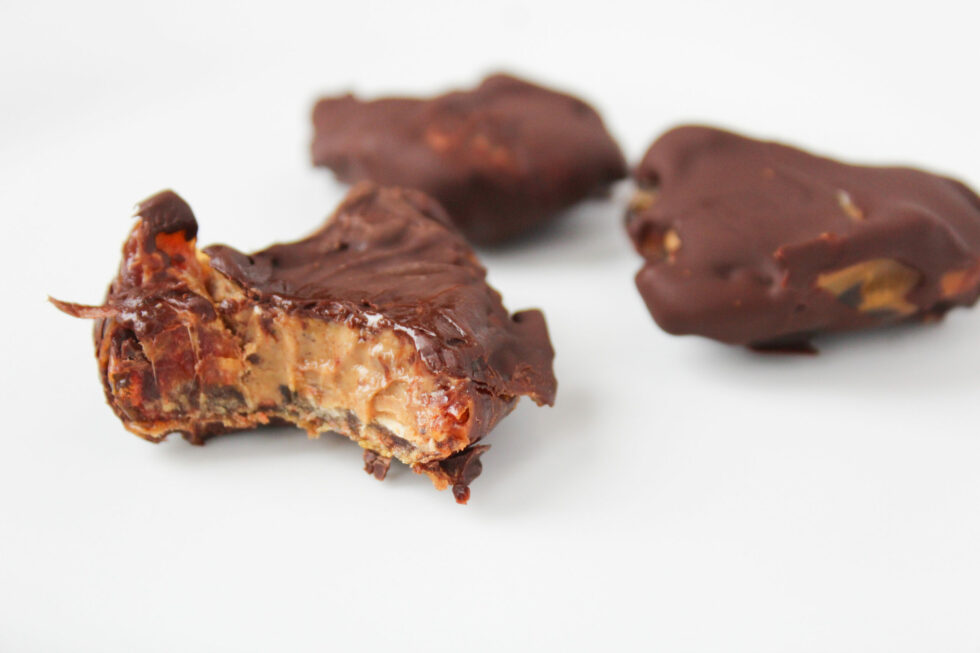 Cashew Stuffed Dates

Eid Al-Fitr or the "Festival of Sweets" is the earlier of the two holidays celebrated within Islam known for breaking the fast. It's celebrated by Muslims worldwide and our Dietitian Taylor loves learning about culture, especially when there is food involved. With so many different types of sweets here are a few of the more popular ones for this holiday: dates, honey, baklava, sweet samosas, kanafeh, vermicelli, stuffed dates, filled cookies and so many more.  

Once we read dates were included we couldn't help but be reminded of "nature's candy". This sweet little fruit brings so much value to the nutritional table with how it packs a punch of sweetness but also brings fiber to the forefront. If you haven't seen the viral trend, just yet here's our take with a twist.
What You Need
3 Dates
1 Tbsp. Cashew Butter 
1 Tbsp. Dark Chocolate
 How It's Made:
Butterfly open the dates

Place the cashew butter inside  the date and freeze for 15 minutes

Place the chocolate in a microwave safe bowl and heat in 15 second intervals until it is melted throughout

Quickly toss the dates in the chocolate and place back in the freezer for 5 minutes

Before enjoying, let soften for 1 minute on the counter
Calories 231
Total Fat 11g
Cholesterol 0mg
Sodium 10mg
Carbohydrates 30g
Fiber 3g
Sugar 22g
Protein 5g
Ready to Start Shopping?
Get everything you need online!
Shop Online