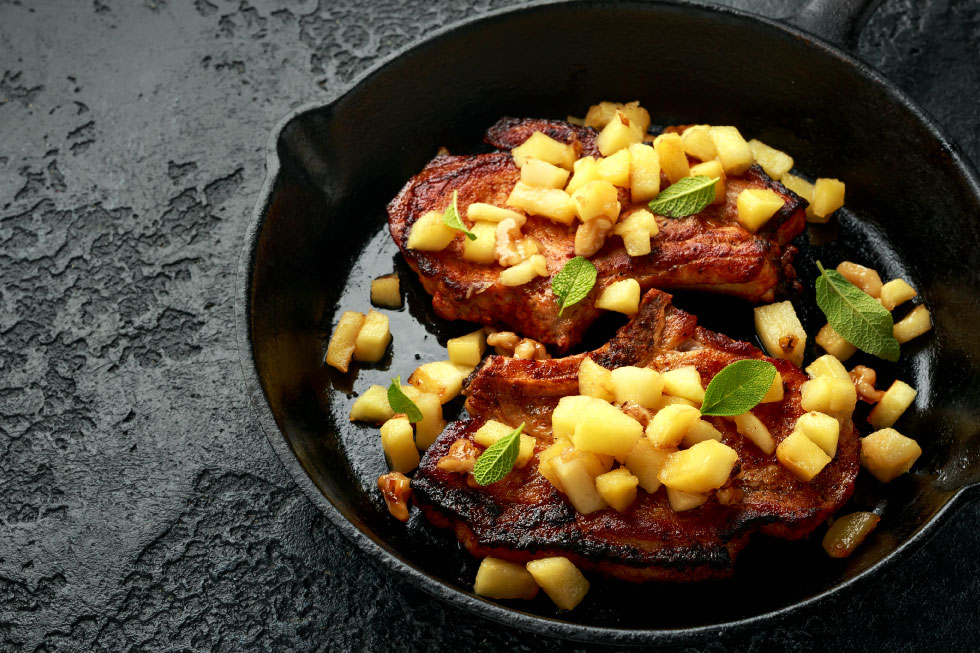 Cast Iron Pork Chops with Sautéed Apples, Mint and Walnuts

Pork chops and applesauce are a fond childhood memory of one of our dietitians. What's not to love about the sweet and savory combination? We've amped up the classic with a few fun flavor twists sure to have the whole family coming back for seconds.
What You Need
1 lb pork chops
2 Tbsp. canola oil
1 small apple
⅛ c. walnuts
10 mint leaves
½ tsp. Salt
2 tsp. pepper
 How It's Made:
Peel and dice apple

Bring a cast iron skillet to medium high heat and drizzle with canola oil

Saute apples for 15 minutes

Season pork chops with salt and pepper

Roughly dice walnuts

Push apples to the outer rim of the pan and place pork chops in the center

Cook until internal temperature reaches 165 (about 8-12 minutes depending on thickness)

Add in mint and walnuts and toss everything together
Calories 243
Total Fat 14g
Protein 24g
Sodium 210mg
Fiber 1g
Carbohydrates 8g
Ready to Start Shopping?
Get everything you need online!
Shop Online