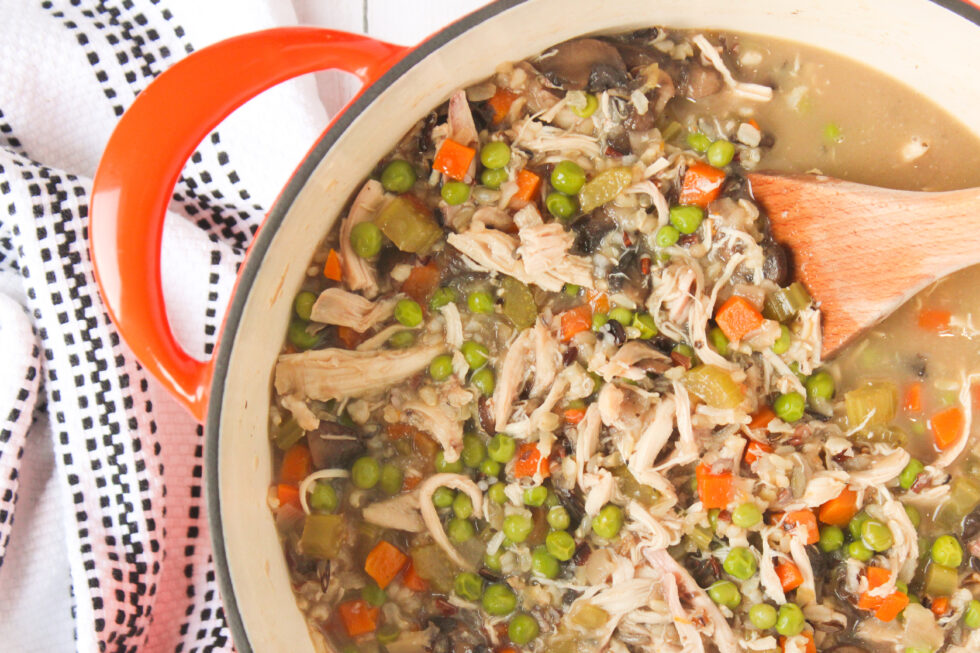 Chicken And Wild Rice Soup

As we are in the thick of January, take a second to look at your new purchasing habits. You might find that you are bringing home leaner cuts of protein, more fruits and vegetables be it fresh or frozen, and whole grains. So let's say you've got some extras on hand and you're looking for a way to revamp them into something delicious and nutritious outside of just a normal side dish. Cue the soup!

Soup is an excellent way to repurpose leftovers and create a filling and delicious well-rounded meal.
What You Need
2 Tbsp. Butter
1 tsp. Garlic Powder
1, 12oz pkg Frozen Onions, thawed
3 Stalks Celery, sliced
1, 8oz pkg fresh mushrooms
4 c. O Organics Chicken Bone Broth, No Salt Added
3 c. Water
¾ c. Wild Rice
1 lb Rotisserie Chicken, shredded
1, 12oz pkg Frozen Peas & Carrots, thawed
Salt and Pepper as desired
 How It's Made:
In a pot melt the butter and add garlic powder for 1 minute

Add the onions, celery, and mushrooms to saute for 5-10 minutes

Add in broth, water, and rice and cover for 35-40 minutes

Add in all peas and carrots and shredded chicken and cook for an additional 10 minutes
Calories 346
Total Fat 15g
Protein 25g
Sodium 673mg
Fiber 4g
Carbohydrates 29g
Sugar 6g
Cholesterol 67g
Ready to Start Shopping?
Get everything you need online!
Shop Online