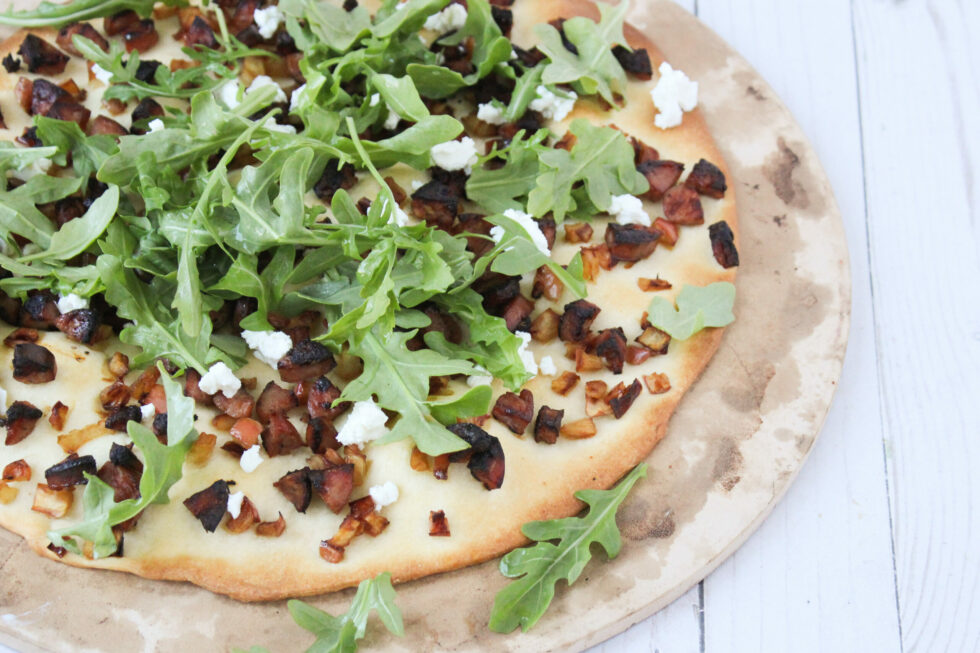 Chicken Apple Sausage With Apples Pizza Night

Cheese pizza might be a staple with kids but have you ever let them try adding the toppings and letting them help? This is a perfect way to get kids involved in the kitchen and lend their tastebuds to something new. This will take a max of 30 minutes!
What You Need
1 Roll Premade Pizza Dough
2 Chicken Apple Sausage
1 Tbsp. Fennel seeds
½ large Apple
2oz. Goat Cheese
2 Tbsp. Balsamic Vinegar
1 ½ c. Arugula
1 tsp. Cornmeal
 How It's Made:
Heat a medium pan over medium heat

Dice apples in ½ inch pieces and saute until just softened

Slice the chicken apple sausage in half lengthwise and then again lengthwise

Slice the chicken apple sausage into pieces

Cook the chicken apple sausage with fennel seeds until a few caramel pieces begin to form

Preheat the oven to 425 (or your particular crusts package directions)

On a baking sheet lightly dust with cornmeal

Roll out the dough

Evenly sprinkle the chicken apple sausage and apples

Bake for 14 minutes (or until your particular crusts package directions)

In a bowl combine the arugula and balsamic vinegar

Once the pizza has cooled, sprinkle on the goat cheese and arugula and enjoy
Calories 294
Total Fat 13g
Cholesterol 44mg
Sodium 795mg
Carbohydrates 32g
Fiber 3g
Sugar 7g
Protein 14g
Ready to Start Shopping?
Get everything you need online!
Shop Online