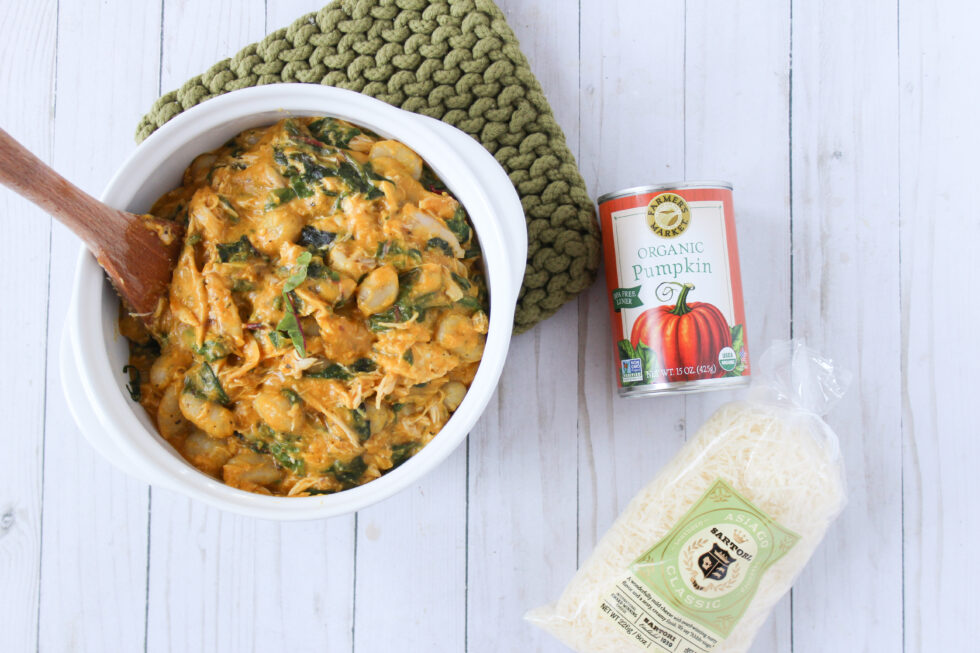 Chicken Bacon Pumpkin Gnocchi

Have you ever tried gnocchi? It surprised us a while back when it was one of the few items that wasn't being bought as much as some of the other packaged carbohydrates. It has a beautiful thick dough-like consistency with only 2-3 minutes of cook time! But if you aren't careful it can turn a little gummy if it goes longer!
What You Need
1, 17.5oz  pkg gnocchi

3 c. bone broth

1 lb rotisserie chicken

2 Tbsp. Italian seasoning

1 Tbsp. Garlic Powder

2 bunches swissh chard

1 can pumpkin

8 oz Asiago cheese

Salt and pepper to taste
 How It's Made:
Cook gnocchi according to package in bone broth

Roughly destem and chop swiss chard

Heat butter in a large skillet and saute swiss chard

Once wilted add pumpkin, 1 ½ c. bone broth from boiling gnocchi and combine

Add in shredded rotisserie chicken, gnocchi, asiago, italian seasoning, garlic powder

Stir to combine all ingredients as it will be a thick mixture and let flavors combine for 5-7 minutes
Calories 464
Total Fat 13g
Protein 36g
Sodium 598mg
Fiber 10g
Sugars 6g
Ready to Start Shopping?
Get everything you need online!
Shop Online