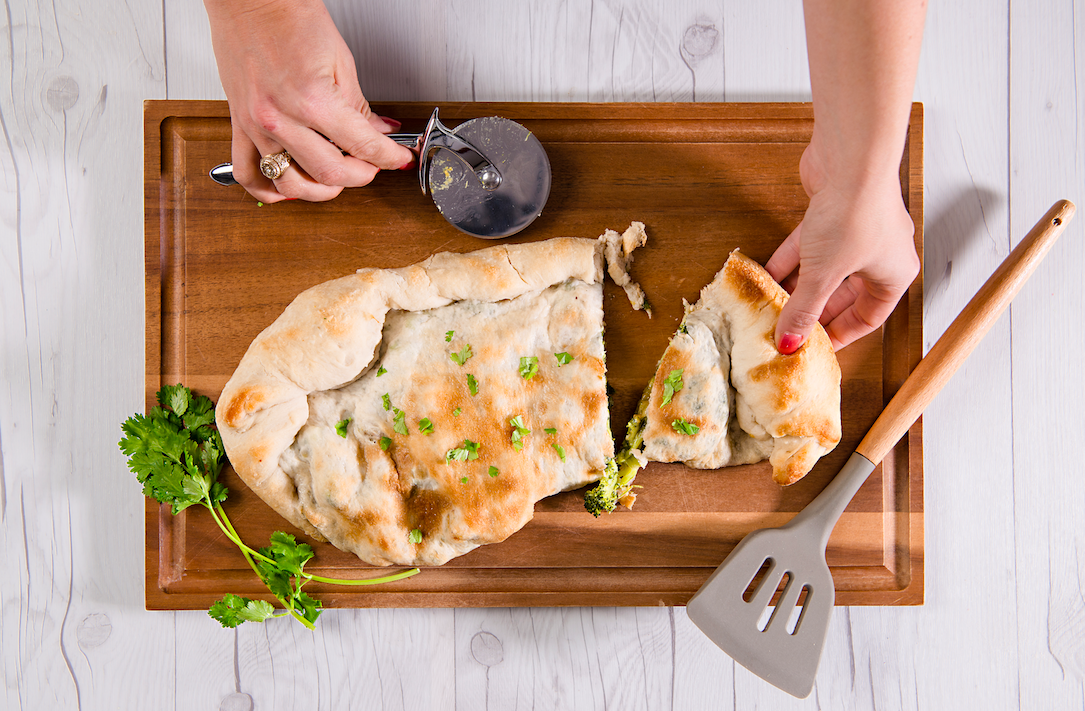 Chicken Curry Stuffed Calzone

Part Italian, part Indian, and all good, this dinner time game-changer takes the best of both worlds and serves them up on a plate.
What You Need:
1 lb frozen or refrigerated pizza dough, thawed

2 cups rotisserie chicken, shredded or cubed

2 Tbsps prepared curry paste, mild or hot

1/2 tsp salt (optional)

1 cup steamed broccoli florets (or other veggie preference)

2 Tbsps fresh cilantro, chopped

1 cup part-skim mozzarella cheese, shredded
 How It's Made:
Preheat oven to 375°F or per dough package instructions.

Roll dough out into a large circle about ½ inch thick. Transfer dough to baking sheet (don't worry if some dough hangs over the edge—you'll be folding it in half).

Combine chicken, curry paste, steamed broccoli, salt, and cilantro in a bowl. Top one half of dough with the chicken mixture and cheese.

Fold over half of the dough with toppings and pinch edges together to seal.

Bake 15 – 20 minutes or until crust is golden brown.

Let stand for 5 minutes before cutting crosswise into slices. Enjoy!
Serving Size: 1 slice, serves 6
Calories 353
Total Fat 14g
Chol 50mg
Protein 20g
Sodium 972mg
Total Carbs 35g
Fiber 1g
Sugars 7g
Ready to Start Shopping?
Get everything you need to make our Chicken Curry Stuffed Calzone online or in-store!
Shop Online
Find My Store
Ready for a Second Helping of Health and Wellness?
Download our quarterly guide for an exclusive taste of the latest health and wellness trends, brought to you by Market Street's in-house nutrition experts.