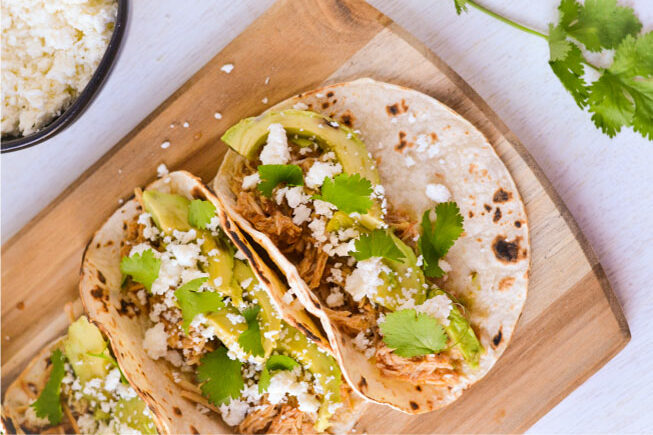 Chicken Salad to Tacos

Keep dinner light tonight with a shredded chicken taco salad and revamp any leftovers into a tortilla tomorrow for lunch (as pictured above). Meal times can truly be that simple and nutritious!
What You Need
2 lb. Rotisserie Shredded Chicken
½ c. Salsa of your choice
¼ c. Taco Seasoning
1 Head Green Leaf Lettuce
1 Avocado
½ c. Salsa Verde of choice
Optional Toppings; cotija cheese, cilantro
For tomorrow's revamp: corn tortillas (or your choice) served on the side as to not get soggy
 How It's Made:
In a medium bowl mix together the salsa and taco seasoning

Stir in your shredded chicken and coat with the mixture evenly

Roughly chop your lettuce and separate into 4 bowls

Spread about 4oz of chicken mixture into each bowl

Slice up avocado among 4 bowls (saving the other half for tomorrow's lunch

Drizzle the salsa on top of the salad evenly (the leftovers in the jar will be used tomorrow)
Calories 241
Total Fat 4.5g
Cholesterol 126mg
Sodium 292mg
Carbohydrates 3g
Fiber 4.5g
Sugar 1g
Protein 26g
Ready to Start Shopping?
Get everything you need online!
Shop Online