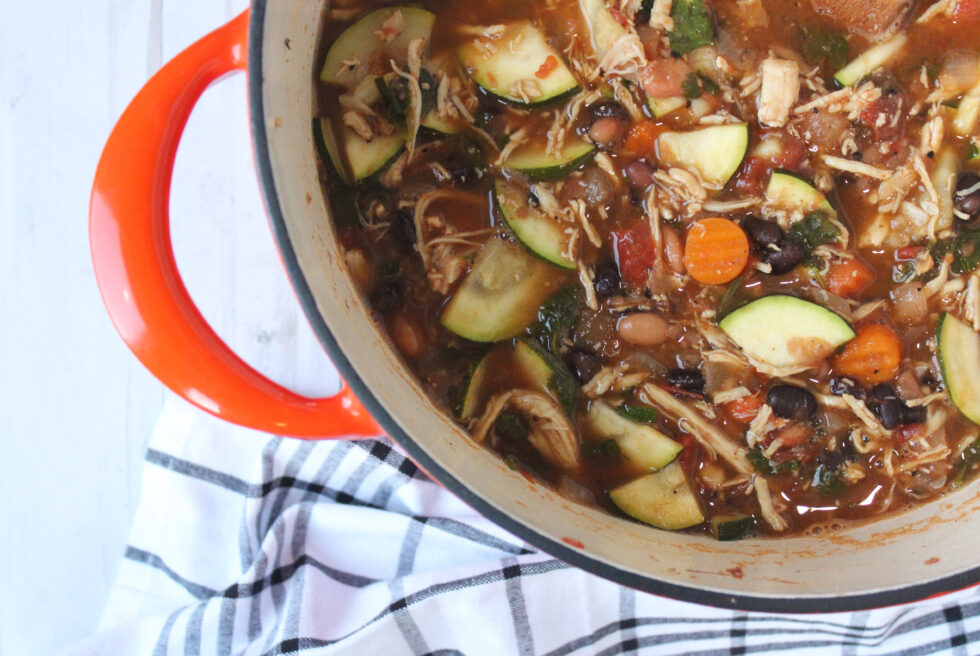 Chicken Tortilla Soup

Nothing says winter like a warm bowl of soup. This higher protein soup is perfect for long days where you remember to turn on the crockpot! We've got all the shortcuts without shorting you on flavor. Grab the recipe below.
What You Need
4 cups pacifica no salt added bone broth
1 can Signature kitchen fire roasted tomatoes
1 lb shredded rotisserie chicken
1 can low-sodium black beans
1 can low-sodium pinto beans
1 c. Signature Kitchen frozen onions
1 c. Signature Kitchen frozen carrots
2 large zucchini
2 Tbsp. minced Garlic
1 tsp. Cumin
1 tsp. Chili powder
½ tsp. Pepper
Tortilla chips of Choice
Optional toppings; cilantro, shredded cheddar cheese, greek yogurt, avocado, lime
 How It's Made:
Drain and rinse beans

Add them to the crockpot

Roughly chop rotisserie chicken to your desired bite-size and add to crockpot

Add in bone broth, onions, carrots, garlic, cumin, chili powder, pepper

Cook on low for 8 hours

Chop zucchini in coins and then in half

Add in for the last 30 minutes

Garnish with tortilla chips
Calories 274
Total Fat 9g
Protein 21g
Sodium 675mg
Fiber 7g
Carbohydrates 42g
Ready to Start Shopping?
Get everything you need online!
Shop Online