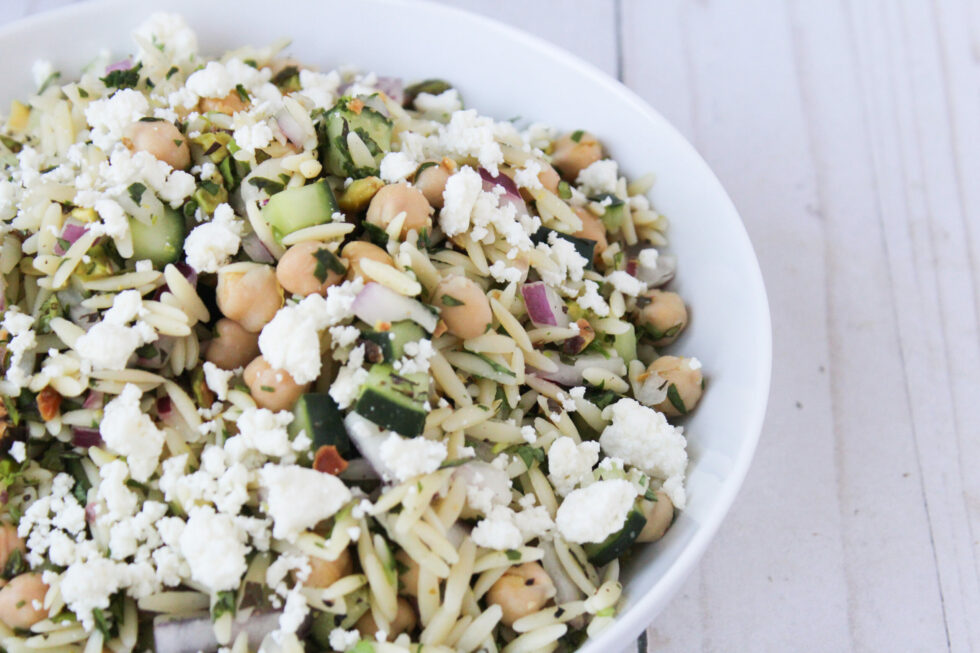 Chickpea & Orzo Pasta Salad

This pasta salad is a nod to the social media trendy salad. We changed up one of the ingredients and would suggest adding a protein to round out the meal. We would suggest salmon, but chicken breast or chicken thighs would be great too!
What You Need
1 can No Salt Added Chickpeas
1 c. Orzo, dry
½ small Red Onion
1 Medium Cucumber
1 Lemon, juiced and zested
⅓ c Pistachios
⅓ c. Feta
⅛ c. Mint
⅛ c. Parsley
Salt and Pepper as Desired
 How It's Made:
Drain chickpeas and add to a medium-large bowl

Boil a small pot of water over high heat

Add in orzo and cook according to package directions

Drain orzo, reserving ⅛ cup of the cooking water

Add water and orzo to chickpeas

Dice red onion

Dice cucumber

Mince mint

Mince parsley

Roughly chop pistachios

Add red onion, cucumber, pistachios, fetal, mint, and parsley to the bowl and mix
Calories 216
Total Fat 5g
Cholesterol 1mg
Sodium 108mg
Carbohydrates 35g
Fiber 5g
Sugar 2g
Protein 10g
Ready to Start Shopping?
Get everything you need online!
Shop Online