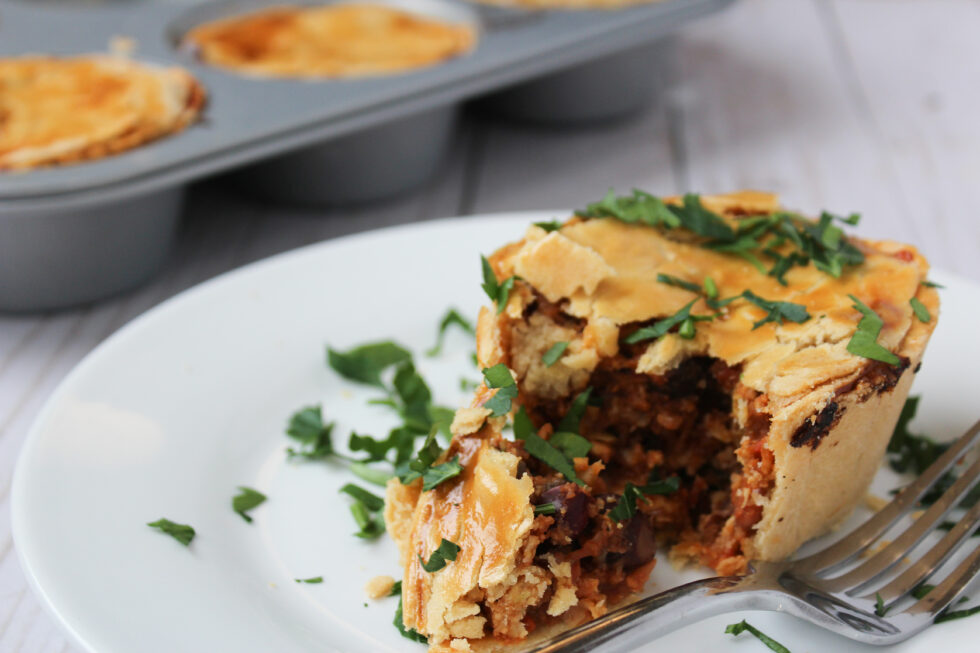 Chili Pot Pie

Happy National Pie day! If you don't already have pie on your nightly meal plan this is a great protein, veggie, and complex carbohydrate meal that you can throw together with a touch of prep work.
What You Need
1/3 lb ground turkey

1 can low sodium black beans

1/2 head cauliflower

½ c. golden beets

1 green bell peppers

4oz mushrooms

1, 14oz can no salt added tomatoes

1 tsp. Salt

3 Tbsp. Chili Powder

1 Tbsp. Cumin 

¼ tsp red pepper flakes

2 pre-made pie crust, thawed

Garnish as desired: greek yogurt, green onions, cilantro, cheddar cheese
 How It's Made:
Preheat oven to 400

Roughly chop beets and cauliflower and spray with olive oil and place on a pan to roast for 40 minutes

Put cauliflower and beets in blender and puree

Brown ground turkey in a large pot

Roughly chop mushrooms and peppers

Sautee for 10 minutes

Drain and rinse beans

Add beans to ground turkey

Add cauliflower and beet puree to pot

Add tomatoes to pot

Add all spices to pot and combine

Set oven to 375

Lightly roll out both dough pieces to be a little thinner than it originally comes

Place a 5-inch bowl on the crust and cut out a circle 2 inches (5 cm) larger than the bowl

Place the cut-out dough circle inside the jumbo muffin tin, making sure to fully press down so the dough is flush against the surface of the tin

Fill the tin ¾ of the way full

Place another layer of crust on top and push the edges shut

Cut three holes in the top to let it vent and brush with an egg

Bake for 35 minutes until the tops are golden brown
Calories 396
Total Fat 18g
Protein 13g
Sodium 383mg
Fiber 5g
Carbohydrates 48g
Ready to Start Shopping?
Get everything you need online!
Shop Online