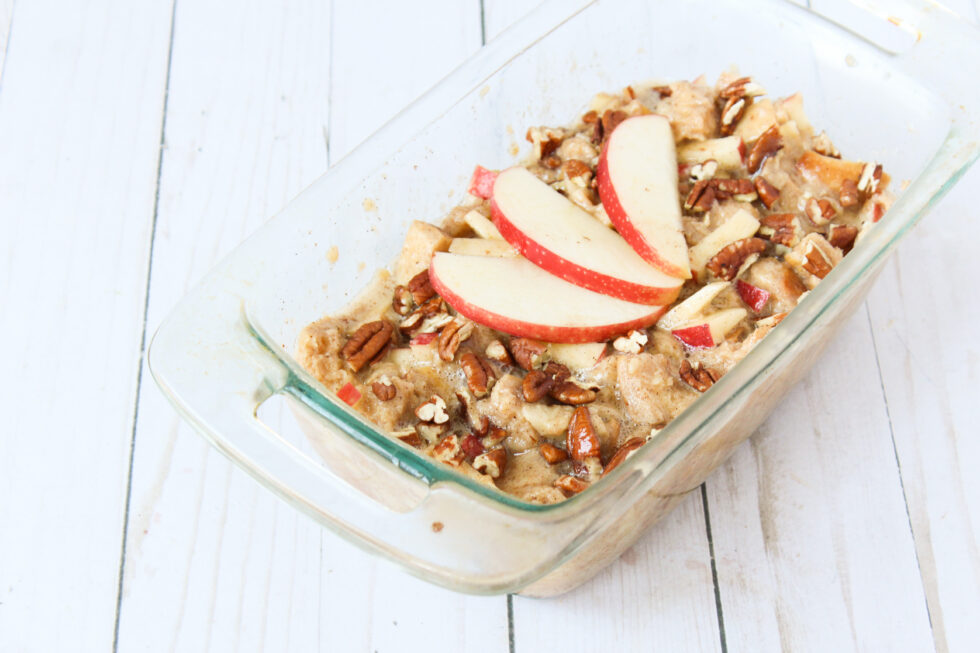 Cinnamon Apple Pecan Breakfast Casserole

Make ahead or in the moment casseroles for weekday on the go breakfasts or a nutrient dense morning gameday are always a win in our book. As we dive into fall flavors, amp it up with simple ingredients to help you relish in this season.
What You Need
½  medium Apple

½ cup Pecans

2 tsp. Vanilla

1 tsp. Apple pie spice

1 tsp. Cinnamon

¼ tsp. cloves

6 Eggs

¼ c. Milk

⅓ loaf Bay City Sourdough
 How It's Made:
Preheat oven to 350 degrees

Grease a glass loaf pan

Crack eggs in a bowl and whisk

Whisk in milk, vanilla, apple pie spice, cinnamon and cloves

Tear or cube bread into ¼  inch pieces

Chop pecans into chickpea-sized pieces, reserve a few to the side

Dice apples into small blueberry sized pieces, reserve a few to the side

Mix together bread, pecans, and apples in pan

Pour egg mixture over bread and gently toss to soak each piece

Scatter apples and pecans on top and bake for 40 minutes

Let cool and cut load into 1" thick slices
Calories 150
Total Fat 6g
Protein 8g
Sodium 57mg
Fiber 1g
Sugars 2g
Ready to Start Shopping?
Get everything you need online!
Shop Online