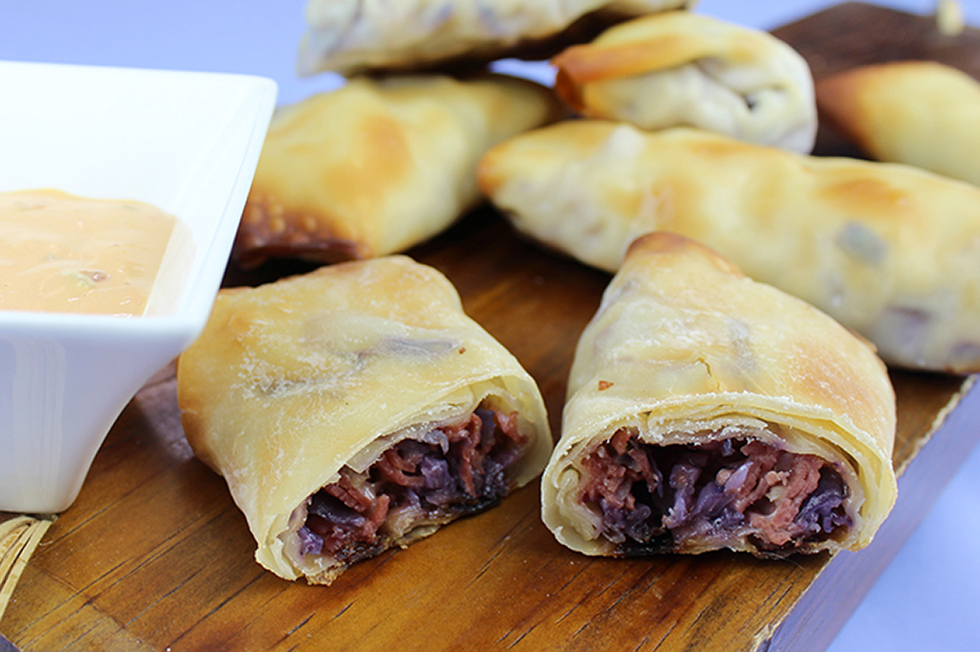 Corned Beef and Cabbage Egg Rolls

If you are getting in the spirit for St. Patty's day and want the food you serve to match your party theme, add these Corned Beef & Cabbage Spring Rolls to your menu. Corned Beef & Cabbage Spring Rolls use purple cabbage, onion, caraway seeds, corned beef, Swiss cheese and egg roll wrappers.

Purple cabbage, also known as red cabbage, is a member of the Brassica Family of vegetables. It is a cruciferous vegetable, that is very low in calories, and high in water content. The high water content allows you to consume a large portion, for few calories. It is rich in Vitamin C and Vitamin K. Purple cabbage also contains fiber, which helps to produce a feeling of satiety and fullness. Purple cabbage is especially high in anthocyanins, which is an antioxidant that works to support your immune system and has cancer preventing properties. 

The Corned Beef & Cabbage Spring Rolls put a twist on traditional Irish cuisine, and are diet friendly, for guests watching their figure! The recipe calls for a relatively small portion of lean corned beef, considering you are making 10 spring rolls. Using reduced fat Swiss cheese is a great way to keep the fat and sodium down and they are baked not fried, lowering the fat content of traditional spring rolls. These spring rolls are a must for upcoming St. Patty's Day celebrations! 

When shopping for purple/red cabbage look for a head with leaves packed tightly together. You can store red cabbage in your refrigerator for up two weeks!
 How It's Made:
Sauté the minced onion and cabbage in olive oil over medium heat until cooked and most liquid has evaporated. 
Remove from heat. Stir in pepper, caraway seeds, onion, and cheese. Mix thoroughly. Set aside.
Add 6 slices of corned beef and then cabbage from the left to right side of the egg roll wrapper. You may have to adjust amounts, less or more, depending on the size of the wrapper or desired fullness. Fold left and right sides of wrapper over edges of filling. Roll wrapper from bottom. Repeat with remaining egg roll wrappers.
Heat the oven to 375F. Bake egg rolls for about 20 minutes or until golden brown. Serve hot with a side of thousand Island dressing.
Calories 316
Total Fat 15g
Chol 62.5mg
Protein 16g
Sodium 652mg
Total Carbs 28g
Fiber 2g
Sugars 4g
Ready to Start Shopping?
Get everything you need to make our Easy Oven Quesadillas online!
Shop Online