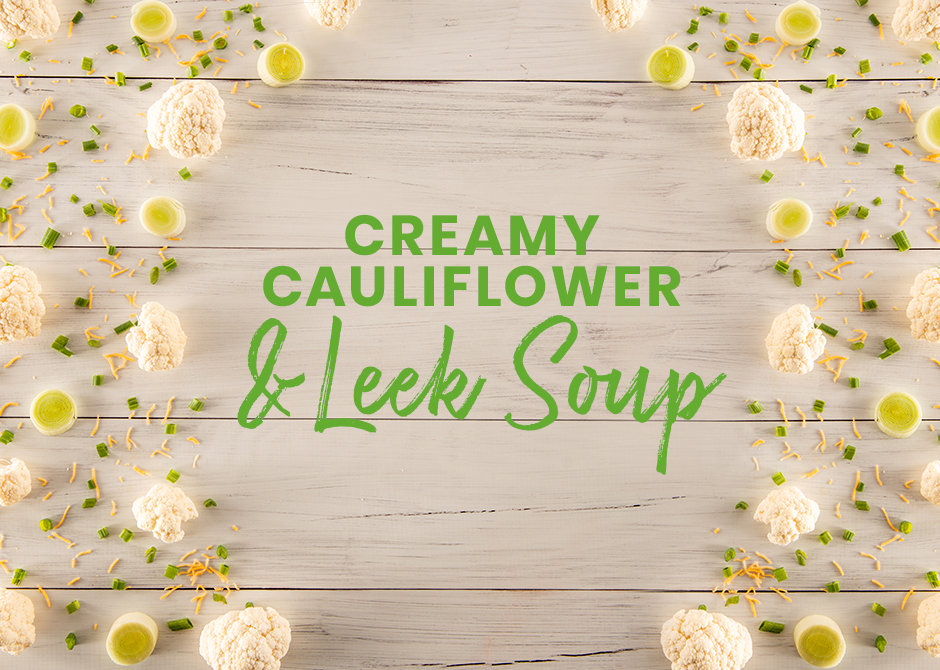 Creamy Cauliflower and Leek Soup

Ladle some of this leek soup into your bowl if you're looking for a savory dish that will leave you saying: "potato soup, who?" With just 114 calories a serving and 3g of fat, you can even help yourself to a second bowl—and believe us, you'll definitely want to.
1 Tbsp unsalted butter

1 Tbsp all-purpose flour (use gluten-free flour if desired)

4 cups reduced sodium chicken or vegetable broth

1 bunch leeks (about 3 or 4) dark green stems removed
1 clove garlic, minced

1 medium head cauliflower, chopped (about 1 ½ lbs florets)

Kosher salt and fresh pepper to taste

Crumbled bacon, cheddar, scallions, for optional toppings
Wash leeks to make sure there's no soil left on them, chop coarsely. Set aside.

In a medium pot over low heat, melt your butter and add flour while stirring for 1-2 minutes.

Add in broth, chopped leeks, garlic, and cauliflower, then turn up heat until boiling. Cover and let simmer on low for 20 minutes.

Remove from heat. Using an immersion blender, carefully pulse mixture until smooth and creamy.

Add salt and pepper to taste and serve piping hot.

Calories 114
Total Fat 3g
Chol 8mg
Protein 6g
Sodium 10mg
Total Carbs 17g
Fiber 5g
Sugars 7g

Get everything you need online or in-store!


Download our quarterly guide for an exclusive taste of the latest health and wellness trends, brought to you by Market Street's Registered Dietitians.