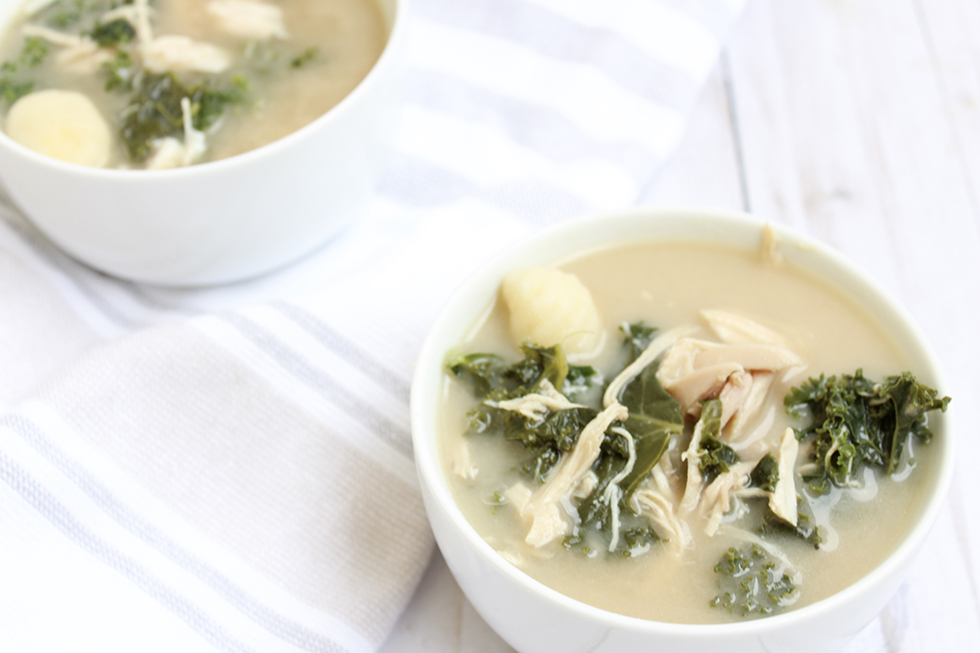 Crock-Pot Chicken, Kale and Gnocchi Soup

Keep your holiday easy, light, and festive with this simmer all day Crock-Pot favorite!
Ingredients
1 rotisserie chicken (about 3 cups), pulled
2 bunches Kale (or more as desired)
1 Onion
1, 16oz pkg Mini Potato Gnocchi
64 oz Chicken Bone Broth
1 cup water
1 head cauliflower (about 2 pounds)
1 cup whole milk
2 Tbsp olive oil
1 tsp pepper
½ tsp rosemary
½ tsp oregano
Directions
Bring whole milk and water to a small boil and put in cauliflower. Bring to a low simmer and cook until cauliflower is falling apart tender (about 20 minutes). If you'd like a shortcut, buy the steamable in bag cauliflower rice (about 2 pounds).
Deskin and debone rotisserie chicken.
Devein kale and dice onion.
Scoop out cauliflower into a blender and enough of the liquid mixture to cover it.Add olive oil and blend on high for 2 minutes.
Turn on Crock-Pot to low and add bone broth, water, salt, pepper, chicken, kale, onion, and cauliflower bechamel to Crock-Pot for 8 hours.
The last hour, throw in the gnocchi.
Serves 6
Nutrition: Calories 365, Carbohydrates 40g, Sugar 5g, Fiber 4g, Fat 5g, Cholesterol 71mg, Protein 40g, Sodium 683mg.