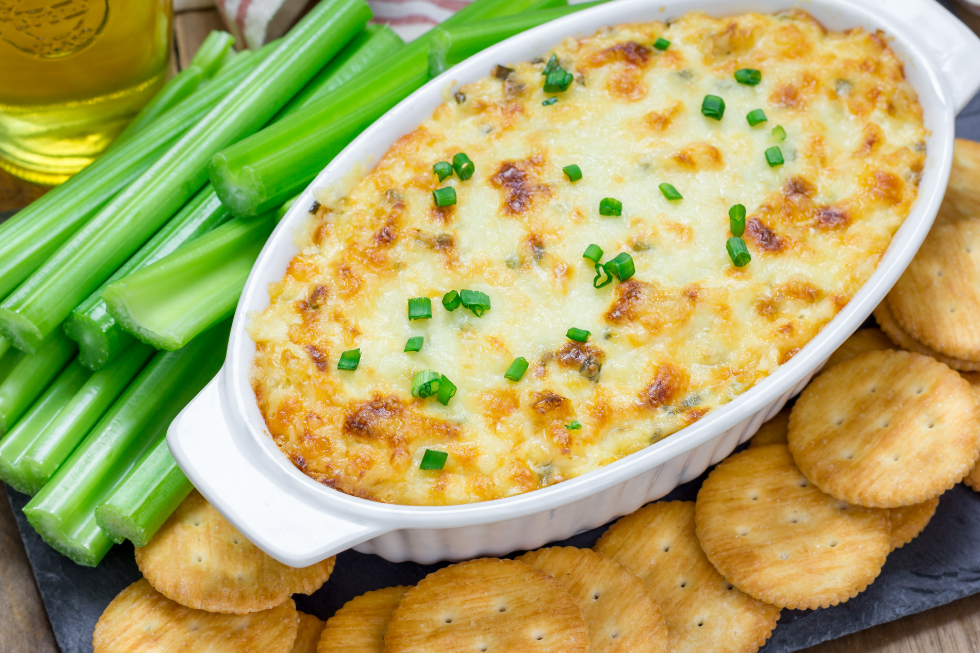 Crockpot Crab Dip

Dips in the crockpot are great because they can be held at a constant temperature for a long period of time so no food safety risk and low maintenance on a hosting end. What's not to love? A few things we love about this recipe is that we are adding more veggies with the leeks and a higher protein content with the plain Greek yogurt and crab as well as some great omega-3's.
What You Need
½ lb cooked and shredded crab

1, 10oz bag fresh baby spinach, roughly chopped

1, 6oz can quartered artichoke hearts, chopped and drained

2 leeks, roughly chopped

1, 8oz brick low-fat cream cheese, cut into 1-inch cubes

1 c. fat-free plain Greek yogurt

½ c. shredded Mozzarella cheese

1/2 c. grated Parmesan cheese

4 cloves garlic, minced

Salt and Pepper to taste
 How It's Made:
Toss all ingredients into a crockpot and stir to incorporate thoroughly

Set on low setting for 2 hours before serving

Serve with veggies like carrot chips, celery sticks, sliced cucumbers, or bell pepper strips. If you are looking for something with a saltier finish try a whole grain cracker or pita chip
Calories 123
Total Fat 7g
Protein 12g
Sodium 181mg
Fiber 1g
Sugars 2g
Ready to Start Shopping?
Get everything you need online!
Shop Online