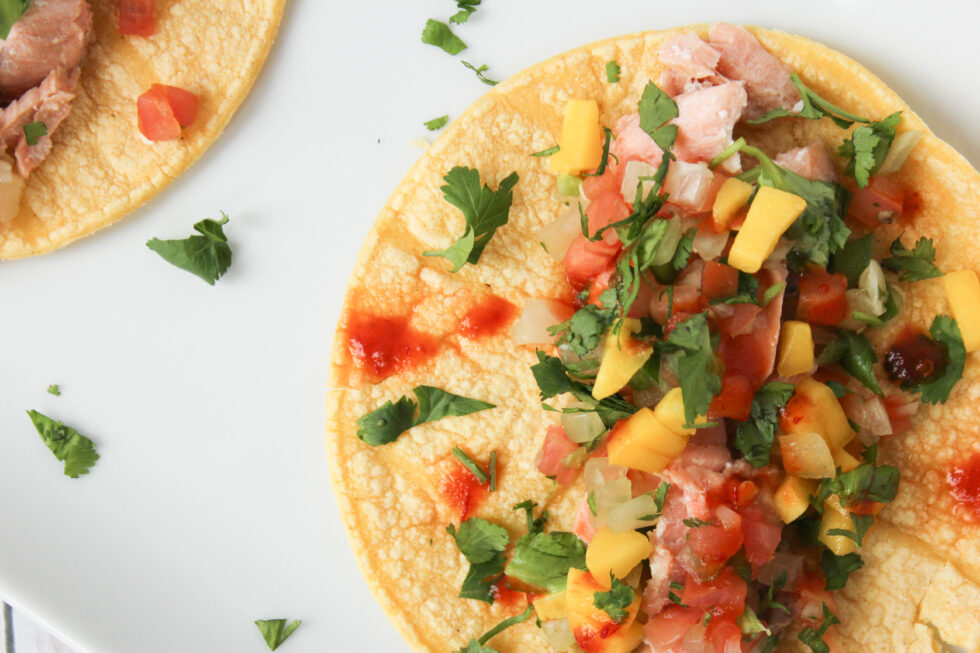 Cuban Fish Tacos

We are committed to providing our customers with high-quality, sustainable, and traceable seafood from environmentally and socially responsible sources. Through our Responsible Seafood Program, we are working to improve transparency within our seafood supply chain; to protect the oceans; and to provide fair and equitable treatment for the people who depend on them for their livelihoods.

Count us in for a fish taco night! These come together in 20 minutes and don't only have to be used with tortilla but can also be used on corn chips or stuffed in a bell pepper.
What You Need
1 lb. Salmon
2 Tbsp. Olive Oil
1/2 tsp. Paprika
1/2 tsp. Cumin
1/2 tsp. Garlic Powder
1 Lime
Salt and Pepper as desired
12 Corn Tortillas
1 c. Fresh Cut – Mango Salsa
Optional toppings: Yellow Bird Jalapeno Sauce, Cotija cheese, cilantro
 How It's Made:
Preheat oven to 350 degrees

Line a baking sheet with parchment paper

Season salmon with olive oil, paprika, cumin, garlic powder and lime juice

Place salmon on baking sheet and bake for 15 minutes or until internal temperature reads 135

Let salmon cool and shred

Assemble taco with shredded salmon and mango salsa
Calories 268
Total Fat 12g
Cholesterol 38g
Sodium 68mg
Carbohydrates 23g
Fiber 2g
Sugar 3g
Protein 18g
Ready to Start Shopping?
Get everything you need online!
Shop Online