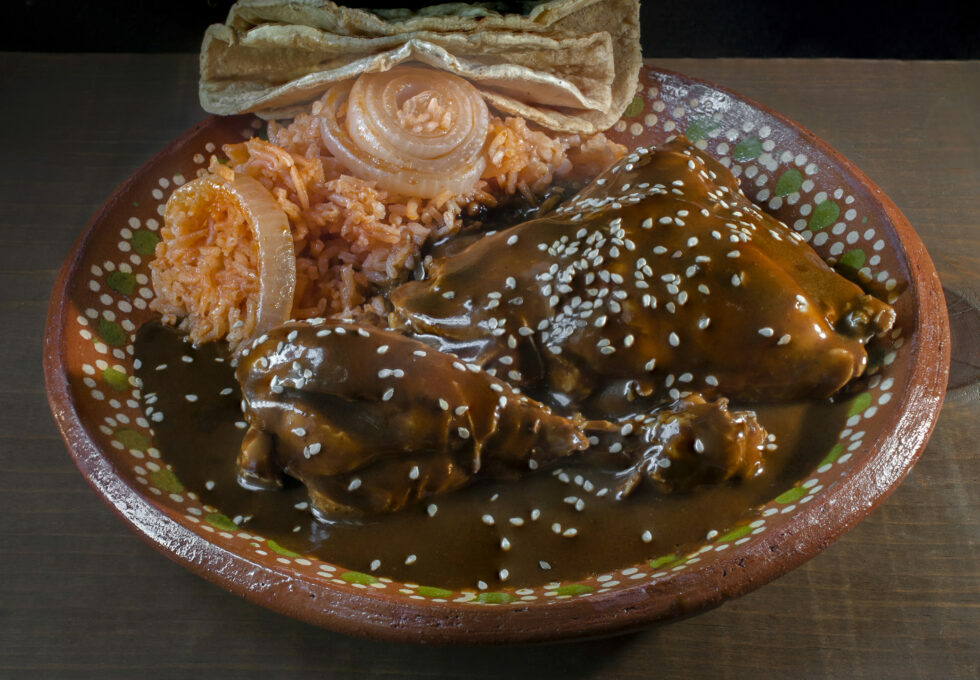 Dia De Los Muertos Mole Poblano

This dish represents, without a doubt, the pinnacle of Mexican gastronomy. The flavors are so rich and well developed that they will have you going back for seconds. Through every culture there is a wonderful design of tradition. In the ways of food as dietitians we like to take traditional foods and make subtle tweaks to keep your health on track. For this recipe we suggest switching the chocolate to dark chocolate for a higher antioxidant concentration and chicken bone broth for a greater protein amount. A couple other things we suggest are to not add additional salt or sugar "to taste" and allow your guests to enjoy as is, or tweak to their liking. Added sugar and salt are some of the biggest culprits when it comes to things that impact our lifestyles.
What You Need
½ baguette
1 chicken
1 cup chicken broth
½ cup sesame
15 peanuts
1 bar (90 g) chocolate
2 cinnamon sticks
2 cloves
Sugar to taste
Salt to taste
 How It's Made:
Cook the chicken

Remove ½ cup of broth

Devein the chiles, wash them and fry them lightly with a little oil

Along with the bread, soak them in the half cup of chicken broth

In a skillet, toast the sesame and peanuts for 2 minutes

Then grind them in the blender along with the cinnamon sticks, cloves, and chilies

It is important that the ingredients are well ground

Pour the mixture into a saucepan and put on the fire

When it starts to boil, add the chocolate and sugar

Bath the chicken with the mole and decorate with sesame seeds
Ready to Start Shopping?
Get everything you need online!
Shop Online