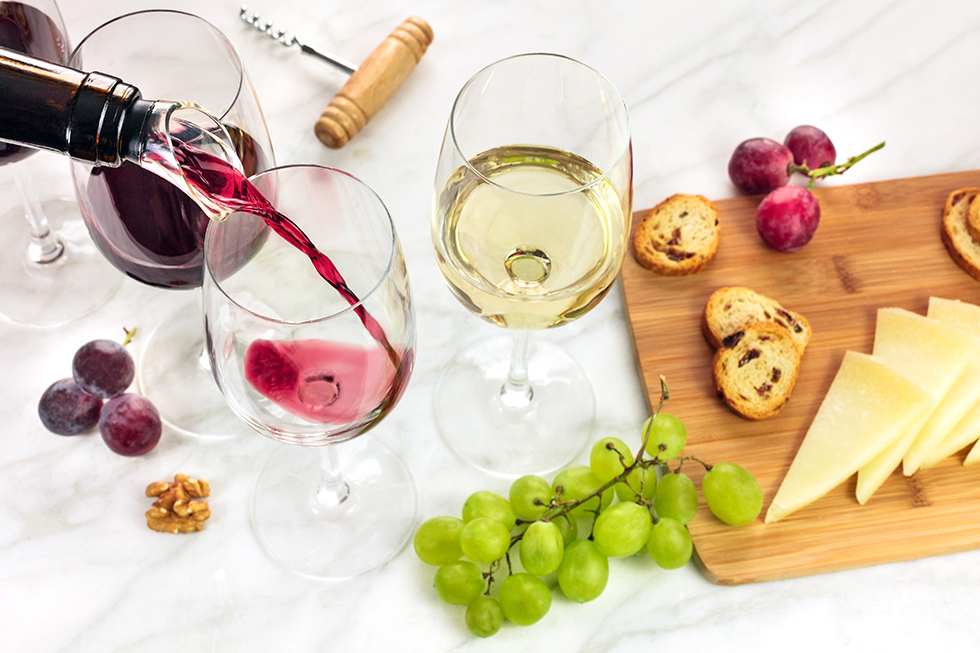 Dietitian Wine Pairings

We've heard it time and time again that red wine is good for the heart, but is it really? There are plenty of studies out there and will continue to be. An important factor here to note is that there are so many other factors going on with individuals in these studies that research can't control. What we can look at is the association between intake and (fill in the blank with whatever the researcher is trying to prove).

So it's not just red wine that has these magical properties but alcohol in general. But for the sake of this article, let's talk red wine! The key component is a substance called resveratrol which is found in the skin of wine grapes (and also found in some other berries and peanuts). Resveratrol is a polyphenol which is a classification of an antioxidant. And we all know how good those are for us! So when we boil the research down, drinking in moderation may:
Reduce damage to blood vessels

Reduce LDL

Help prevent blood clots

Decreased risk of cardiovascular disease, heart disease, stroke, and some types of cancer

Reduce the risk of Type 2 diabetes

Increase of bone mineral density
All of this being said, this doesn't make the case for non drinkers to start drinking, unless they want to enjoy the taste and the potential health benefits. As always, too much alcohol can have harmful effects, so don't go drinking a whole bottle for its antioxidant properties. The current guidelines are 1, 5oz glass for a female and 2 glasses for a male. The Mediterranean diet is a good starting point to showcase how wine and food moderation along with lifestyle choices can bring many lifelong benefits.
Dietitian Pairings
Champagne
Appetizer: Brie cheese, marcona almonds, peach, prosciutto wrapped asparagus
Dinner: Lemon butter spinach and orzo with seared scallops
Gruner Veltliner
Appetizer: Goat cheese, grapefruit, snow peas, pistachios
Dinner: Cauliflower rice with peas, carrots, quinoa, ground turkey, and green onion stir fry
Sauvignon Blanc
Appetizer: Gruyere, green apple, rainbow carrots, pine nuts
Dinner: Grilled shrimp ceviche with market street chips
Oaked Chardonnay
Appetizer: Smoked gouda, cashews, pear, sweet bell pepper
Dinner: Grilled chicken, sauteed green beans almondine, garlic couscous
Rosé
Appetizer: Feta and ricotta whipped together drizzled with honey cracked black pepper and diced green onion, strawberries, bruschetta, hazelnuts
Dinner: Pork chops with an apple and cherry reduction, parmesan polenta and steamed brussels sprouts
Pinot Noir
Appetizer: Root vegetable crudite, burrata topped with sauteed wild mushrooms caramelized figs and toasted pine nuts, 
Dinner: Lamb stuffed eggplant with toasted pine nuts
Red Blend
Appetizer: Swiss cheese, beet/walnut/chickpea hummus, plums
Dinner: Pork tenderloin stuffed with rosemary, onions and mushrooms, roasted carrots and potatoes 
Cabernet Sauvignon & Bordeaux
Appetizer: Blue Cheese, pecans, blackberries, mushrooms
Dinner: Filet mignon, roasted asparagus and roasted rosemary red potatoes
Syrah
Appetizer: Sharp cheddar cheese, walnuts, grapes, olives
Dinner: Ground bison, sauteed spinach, sweet potato