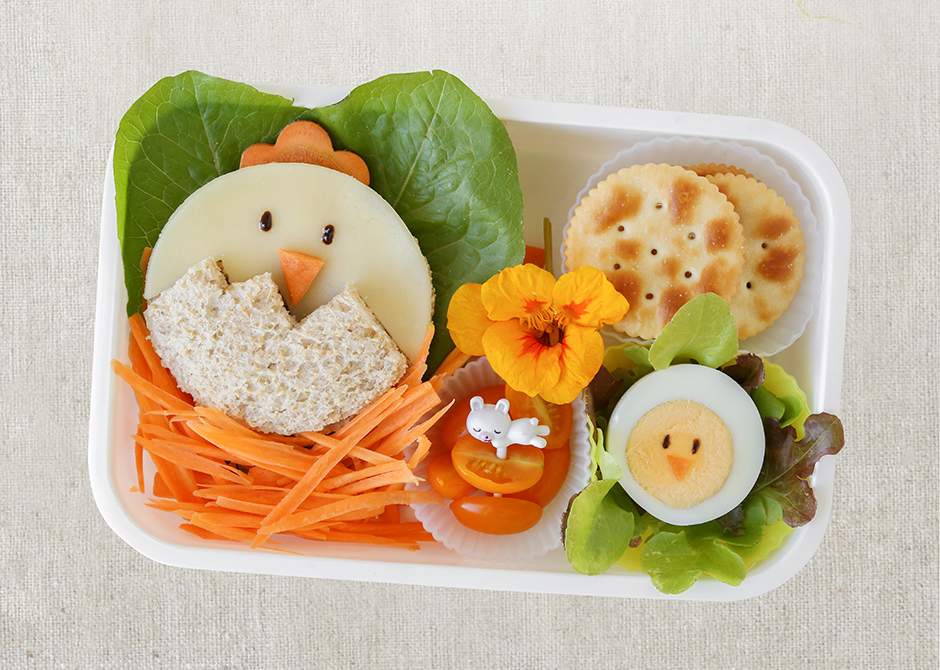 DIY Birdie Box

This adorable lunch box sandwich hack is a simple way to say "I love you a bushel and a peck."
What You Need:
2 slices of whole wheat bread

1 slice cheddar cheese

2 slices turkey

1/2 cup carrots, sliced

3  Nut ThinsⓇ crackers

1/4 Grape tomatoes, halved

Hard boiled egg

3 pieces of lettuce, to garnish

1 Tbsp balsamic dressing
 How It's Made:
Using a knife, cut one slice of bread into a circle— this will be the bottom part of sandwich.

Cut other slice of bread to resemble a shell-like shape.

Spread balsamic dressing on the bottom slice of bread and add turkey, cheese, and carrots.

In your lunchbox, lay lettuce in the top left corner and place sandwich on top.

Add sliced carrots below sandwich. In one muffin cups add halved tomatoes and in the other, add crackers.

In the corner of your lunch box, lay lettuce and place hard boiled egg on top.

Finish your sandwich by adding two drops of balsamic dressing for eyes and a piece of carrot for the beak.  
Calories 455
Total Fat 16g
Chol 191mg
Protein 26g
Sodium 1351mg
Total Carbs 40g
Fiber 4g
Sugars 11g
Ready to Start Shopping?
Get everything you need to make our DIY Birdie Box online or in-store!
Shop Online
Find My Store
Ready for a Second Helping of Health and Wellness?
Download our quarterly guide for an exclusive taste of the latest health and wellness trends, brought to you by Market Street's in-house nutrition experts.