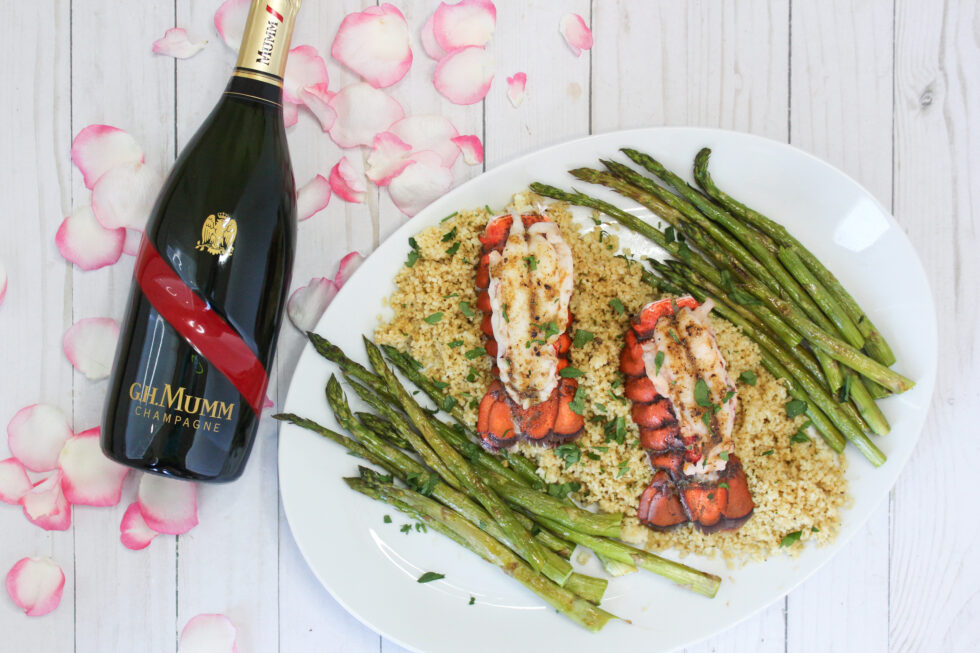 Easy Lobster Tail Dinner

Cooking a lobster tail might seem like an undertaking but it's more simple than you'd think! To create this whole dinner you need 3 main ingredients and a few you probably already have hiding in your pantry. 

Not ready to take on this protein yet? Try our ready meal or valentines catering box sure to wow your sweetheart.
What You Need
2, 4oz Lobster tail

1 Tbsp. butter

¼ tsp. Garlic powder

¼ tsp. Pepper

¼ tsp. Thyme

¼ tsp. paprika

1 lemon

1 bunch asparagus

1 box couscous (we used Near East Wild Mushroom & Herb flavor)
 How It's Made:
Preheat oven to 450 degrees

Cut a single line along the top shell down the center

Lightly peel back the shell from the meat (it will not entirely pull away)

Take a spoon and wedge it between the shell and the meat to separate it

Slowly remove the lobster meat from the shell (it will have a slight tug to it)

Place meat on top of shell on a baking sheet

Melt the butter and mix in the garlic, pepper, thyme, and paprika

Brush along top of the lobster meat

Bake for 6 minutes

Squeeze ½ of lemon wedge over the whole sheet pan, and remove lobster tails

Place back in oven for 10 minutes to finish roasting asparagus

Cook box of couscous according to package directions 

Plate up by using 1 cup quinoa per plate, ½ the bunch of asparagus and 1 lobster tail per person
Calories 564
Total Fat 11g
Protein 36.5g
Sodium 782mg
Fiber 9g
Carbohydrates 51g
Ready to Start Shopping?
Get everything you need online!
Shop Online