Easy Oven Quesadillas

These oven quesadillas crisp up perfectly and are an easy weeknight win. They are a leaner option with ground turkey and high fiber tortillas.
 How It's Made:
Preheat oven to 375 degrees with foil lined sheet in the oven
Brown ground turkey.
Drain and rinse black beans. Add to turkey.
Dice Avocado, cucumber, and radishes.
Roughly chop cilantro.
Sprinkle ¼ cup cheese on one side of the tortilla.
Place ¼ turkey and bean mixture, cilantro, and radish on top of cheese.
Sprinkle ¼ cup cheese on top and place another tortilla on top.
Pull out the hot pan from the oven, gently place quesadillas on the pan and place back in oven for 10 minutes.
Dice cucumber and radish.
Combine yogurt, 2 tbsp chipotles in adobo sauce and diced cucumber.
Garnish with avocado, any additional radishes and yogurt sauce.
Calories 694.5
Total Fat 41.25g
Chol 140mg
Protein 53g
Sodium 1237mg
Total Carbs 59g
Fiber 36g
Sugars 3.5g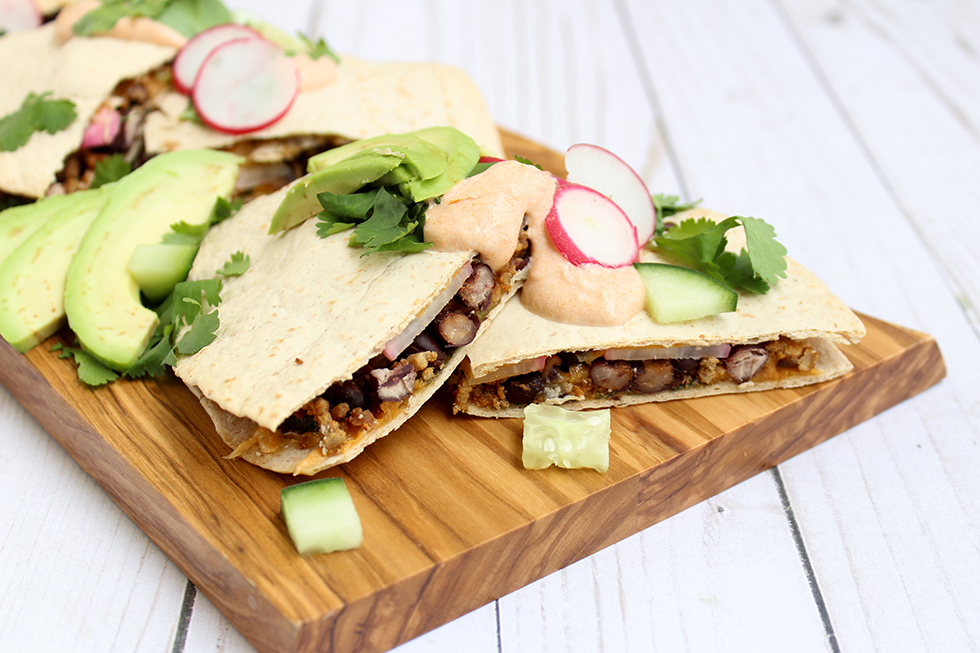 Ready to Start Shopping?
Get everything you need to make our Easy Oven Quesadillas online!
Shop Online