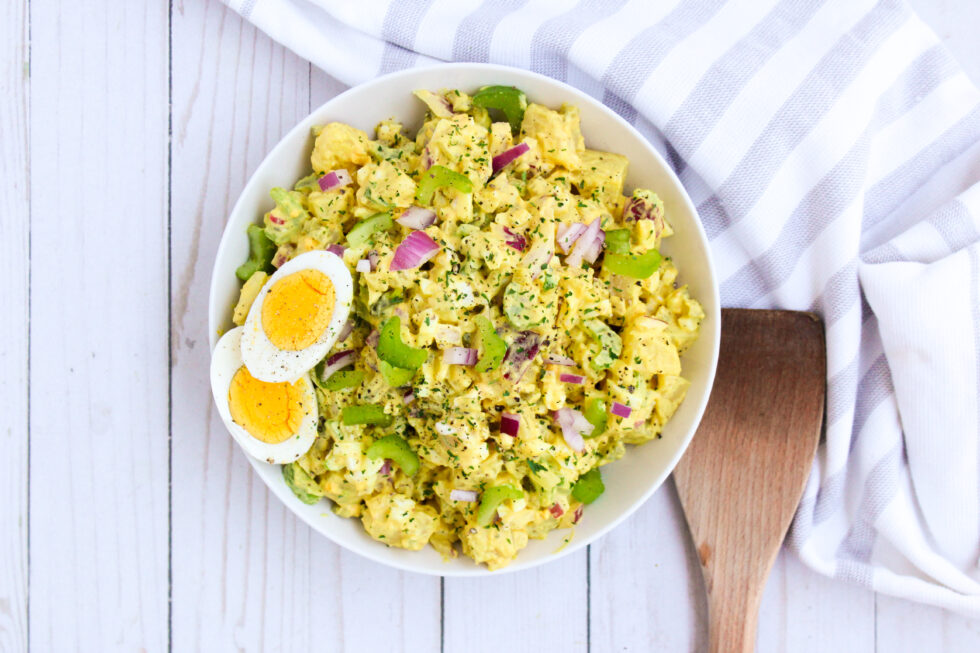 Easy Potato Salad

Potatoes are a staple ingredient in our dietitian pantry especially as they are so versatile in how to incorporate them in your dishes. This easy potato salad is not only budget friendly but can help you through your quarantine kitchen fridge door clean out!
What You Need
2 Russet Potatoes

3 Eggs

½ small Red Onion

⅓ c. Pickles

⅓ c. Celery

⅓ c. Mustard

¼ c. Mayo

Salt & Pepper
 How It's Made:
Bring a large pot of water to a boil and season with salt

Peel and dice potatoes

Place potatoes and eggs in water for 5 minutes

Test with a fork for doneness (potato should be al dente). Place in a cold water bath to stop cooking process

Continue to let eggs cook for 4 more minutes

Slice celery in small pieces

Dice pickles in small pieces

Dice onions in small pieces

In a large bowel, combine mustard and mayo.

Add potatoes, red onion, pickles, celery, mustard and toss to combine

Slice eggs with egg slicer once lengthways and once width ways and toss gently to combine
Calories 152
Total Fat 10g
Protein 5g
Sodium 385mg
Fiber 1g
Sugars 1g
Ready to Start Shopping?
Get everything you need online!
Shop Online