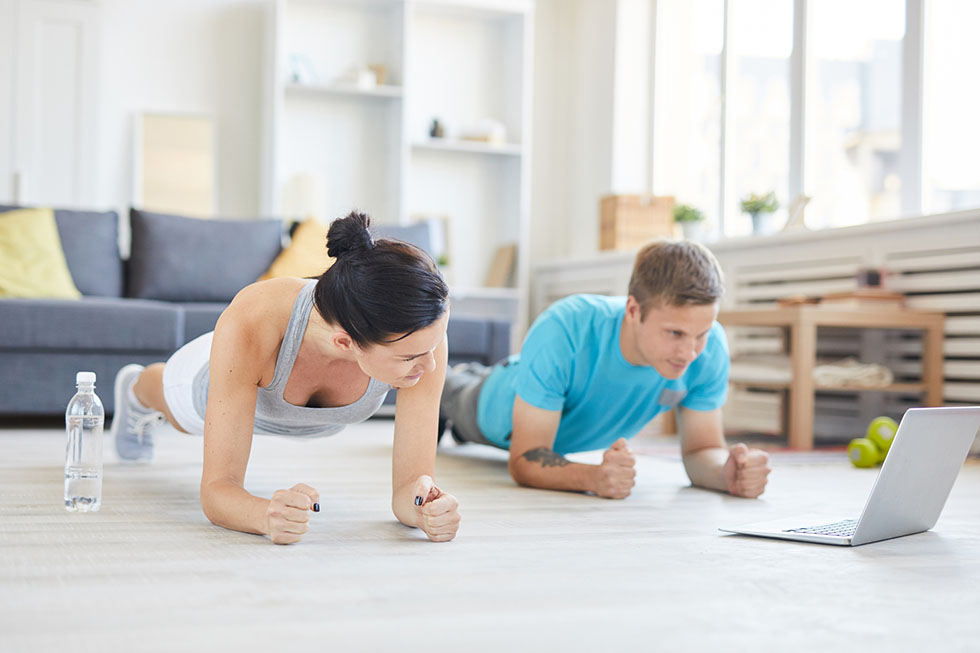 Exercise At Home

Exercising at home is a great way to kickstart your fitness journey. For those with a schedule that has little free time, waiting to avoid other members, or just looking for something for a low-to-no cost, working out at home provides a great opportunity. While these workouts are not in a standard gym setting, they can pack just as much punch without the added time to driving, checking-in, grabbing a locker, and driving back.
Bodyweight Circuits
You don't need heavy weights or fancy equipment to get a beneficial workout in. Using your own body weight to strength train is effective and inexpensive. Try this circuit three times in a row to get your heart rate up and your muscles burning. 
20 bodyweight squats

10 push-ups 

10 walking lunges (each leg) 

10 dumbbell rows (use milk jugs, water bottles, or anything else around the house) 

15 second plank 

30 jumping jacks
Yoga
Yoga is typically put on the back-burner as it is not widely thought of as strenuous exercise. While you won't reach 90% of your max heart rate, you are still activating many muscle groups and actively stretching muscles, which is indeed a workout. Lay a towel out in the grass and get to stretching!
Creative Cardio
Cardio isn't just confined to a treadmill. Get creative with the ways you increase your heart rate. Something as simple as briskly walking the dog around the neighborhood, running up and down the stairs, or playing tag with the kids at the park.
Use the Internet!
Apps we all have on our devices are full of free access to exercises of all kinds. Do you like Zumba? Look it up on YouTube. Do you like intense cardio sessions where the instructors yell at you? Look it up on Youtube. Do certain songs make you want to get up and dance? Look them up on Youtube. Utilize your internet and these free resources to find all types of different methods to get active right in your living room.