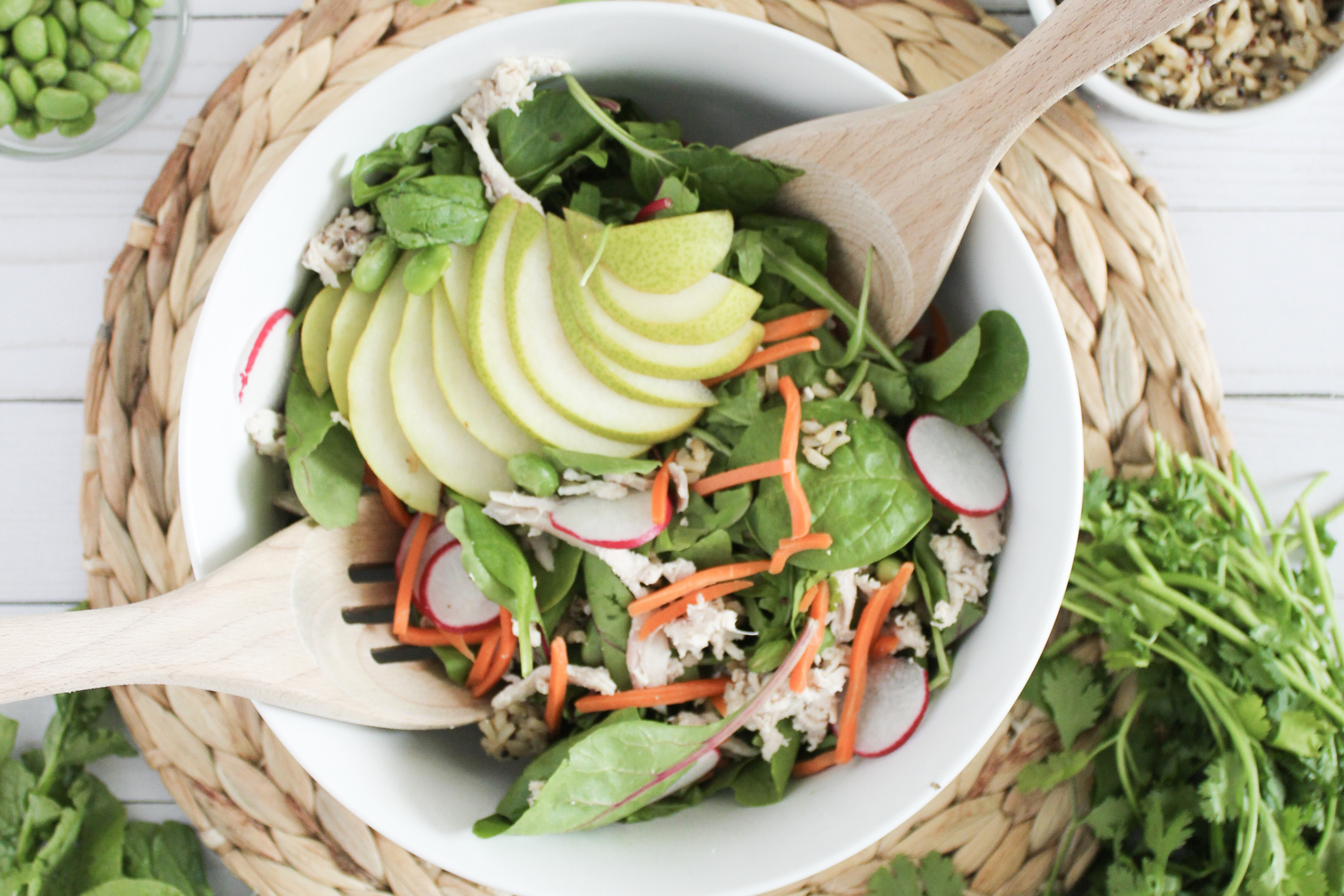 Fall Asian Salad

This salad is a great way to incorporate fall produce such a pears and radishes into your meal.  To help get this meal on the table quickly, you can easily make the chicken ahead of time or grab some of our pulled rotisserie chicken from the deli. 
Ingredients:
1 lb. Chicken breast or pulled rotisserie chicken from deli
1 lb. box spring mix lettuce
1 pkg., 90 second Quinoa & Brown Rice Medley
2 cup shredded carrots
1 c. Edamame, shelled
2 medium pears
½ cup Sliced radishes
4 Tbsp toasted sesame oil
1 Tbsp Lime Juice
1 Tbsp maple syrup
1 Tbsp Coconut Aminos or Low Sodium Soy Sauce
4 Tbsp peanut butter
½ c. peanuts
1 tsp garlic powder
1 bunch Cilantro
Directions:
Turn on oven to 350 degrees
Bake chicken breasts for 25 minutes or until they reach an internal temperature of 165 and let them rest.
Microwave the rice in microwave according to package directions.
Slice radishes
Dice pears
Pour lettuce into large serving platter
Pour rice, shredded carrots, edamame, pears and radishes over top
Shred chicken with KitchenAid Mixer and paddle attachment
Top make sauce, pour oil, lime juice, maple syrup, coconut aminos, peanut butter, garlic powder and peanuts into a bowl and combine. 
Top salad with chicken and sauce on top.
Garnish with cilantro
Serves 4
Nutrition: Calories 591, Carbohydrate 55.5g, Fiber 10g, Sugar 20.5g, Fat 27.5g, Cholesterol 50mg, Sodium 682mg, Protein 36g