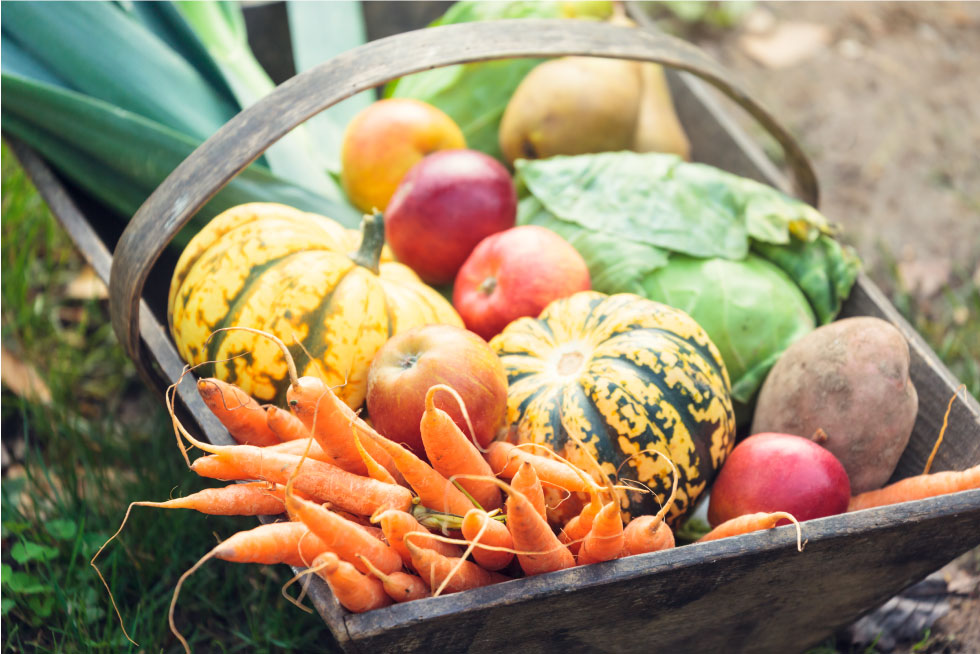 Fall Veggies Roundup

Tis the season for fall vegetables! It's time to bring out your favorite cookbooks or discover some new recipes with these fall vegetables we're here for. 

So what's in season now?
Apples

Beets

Broccoli

Brussel sprouts

Bok choy

Collard greens

Potatoes

Radishes

Winter squash 

Yams

And so many more!
Did you know that in season produce is more flavorful and nutritious than out of season produce? That's right! In season produce is packed with all the beneficial vitamins and minerals for our health. A budget-friendly alternative to fresh produce is purchasing frozen or canned produce. Frozen produce is an affordable option to purchase foods that may already be out of season. When fruits and vegetables are frozen, they are usually at their peak ripeness, which allows all the beneficial nutrients and flavor to remain. Due to locking in all the beneficial vitamins and minerals through the freezing process, these fruits and vegetables are often just as nutritious, if not more when compared to fresh produce.
Introducing some standout fall vegetables
Let's begin with winter squash! You may be wondering, what is a winter squash? Well, this squash variety includes butternut squash, acorn squash, spaghetti squash, and many others. There are a variety of vitamins and minerals found in winter squash including vitamin A, vitamin C, potassium, and fiber. These nutrients work together as they may be beneficial with maintaining good blood pressure, lowering cholesterol, and inflammation. Getting creative in the kitchen is key, here are some recipe ideas that incorporate winter squash: 
Butternut Squash Soup

Stuffed Acorn Squash

Creamy Acorn Squash Pasta

Chicken Primavera Stuffed Spaghetti Squash 
Now, let's move on to broccoli! You may not know that broccoli is actually in season during the fall, despite being available nearly all year round. Broccoli contains vitamin C, vitamin K, iron, potassium, and fiber. These nutrients found in broccoli may help to lower blood sugar levels, help promote good joint health, and protect you from developing heart disease. The recipe ideas for broccoli are endless as it is a very diverse cruciferous vegetable! Here is some inspiration for how to add broccoli to meals:
Cream of broccoli soup

Beef and broccoli stir fry 

Chicken broccoli stuffed peppers

Broccoli caesar salad 
Next up, we have collard greens! Collard greens are packed with nutrients, in particular vitamin K, vitamin C, and folate. These nutrients found in collard greens may help to improve bone health, boost eye health, support digestive health, and improve blood pressure. Green leafy vegetables often get a bad wrap regarding their taste. However there are many delicious recipes that incorporate collard greens! Here are some ideas for your next meal:
Cheesy grits with collard greens

Lemon collard green pasta

Sweet potato egg casserole with collard greens

Bean soup with collard greens and brown rice
Get creative and incorporate some of these fall vegetables into your seasonal recipes this year!