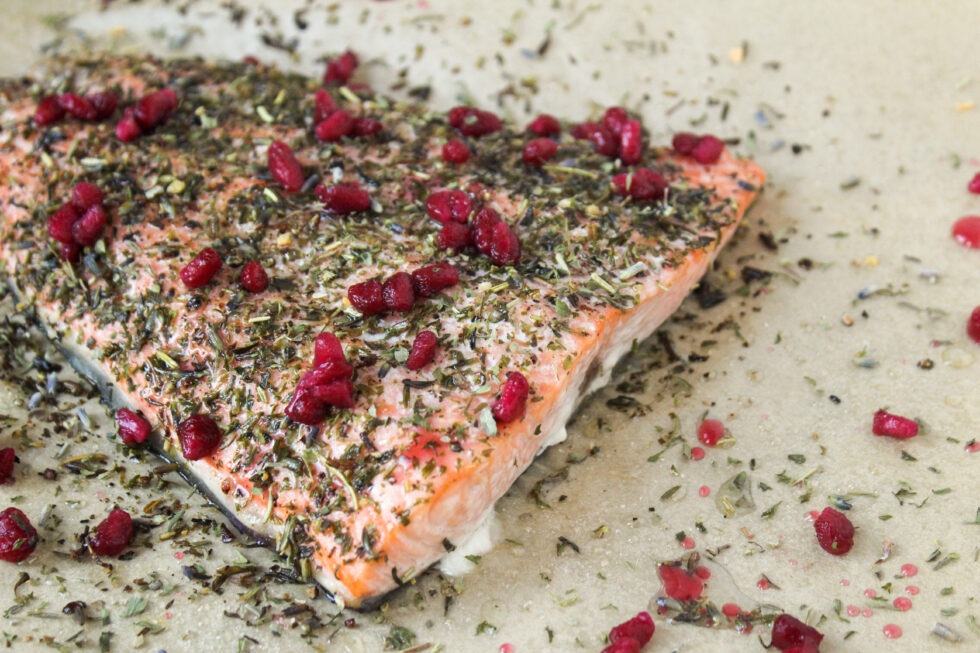 Festive Red and Green Salmon

Fish is an elegant table pleaser and you can up your hosting skill by putting a "theme" to your fish. In this case, we suggest holiday colors. What better way to do this than with herbs and produce. Head down the spice aisle and make a quick stop in produce and the meat market for this 4 ingredient crowd-pleaser.
What You Need
1 lb Salmon
1 Tbsp. Olive Oil
2 Tbsp. Herbs De Provence, dried
¼ c. Pomegranate seeds
 How It's Made:
Preheat oven to 425 degrees

Lay parchment paper on a baking sheet

Lay salmon on top of parchment paper and rub olive oil in evenly

Sprinkle on herb mixture

Bake for 10 minutes

Plate up and sprinkle on pomegranate seeds
Calories 228
Total Fat 13g
Protein 23g
Sodium 47mg
Fiber 1g
Carbohydrates 4g
Ready to Start Shopping?
Get everything you need online!
Shop Online