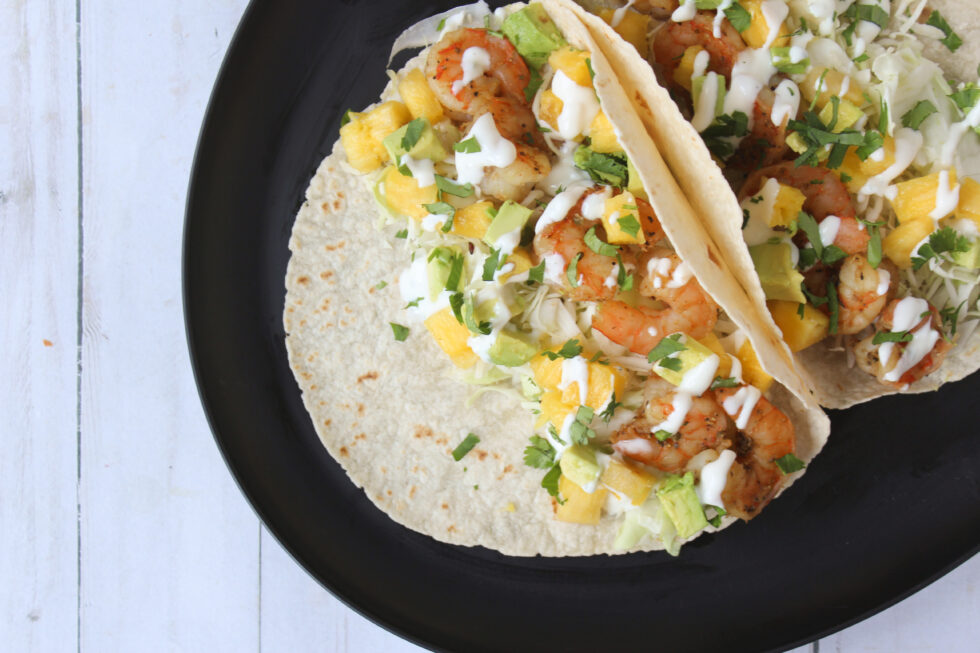 Fresh Spiced Shrimp Tacos

These simply spiced shrimp work wonderfully in conjunction with fresh pineapple and avocado with the familiar ranch flavor that's a crowd pleaser for kids and reminiscent for adults.
What You Need
1 Tbsp. Butter
½ Tbsp. oregano
1 Tbsp. garlic powder
½ tsp. Thyme
1 Tbsp. lemon juice
1 Tbsp. worcestershire 
1 tsp. Pepper
1 tsp. Paprika
½ tsp. cayenne pepper
4 Tbsp. Greek Yogurt
2 tsp. Ranch Seasoning 
1 small Avocado
½ c. Pineapple
½ bag coleslaw
8 Tortillas
Optional Garnish: Cilantro
 How It's Made:
Preheat a medium pan over medium heat

Melt butter in pan

Add oregano, thyme, pepper, paprika, and cayenne pepper to pan and stir for 1 minute to activate spices

Add in lemon juice, worcestershire, and shrimp

Cook until shrimp are pink or an internal temperature of 145 is reached (about 8 minutes)

In a large bowl add greek yogurt and ranch seasoning packet and mix

Add in coleslaw and combine to evenly coat

Dice pineapple and avocado to the same size

In the tortilla, layer the coleslaw first, followed by the shrimp, pineapple and avocado. Add the optional garnish of cilantro to finish.
Calories 372
Total Fat 15g
Protein 30g
Sodium 1390mg
Fiber 18g
Carbohydrates 42g
Ready to Start Shopping?
Get everything you need online!
Shop Online