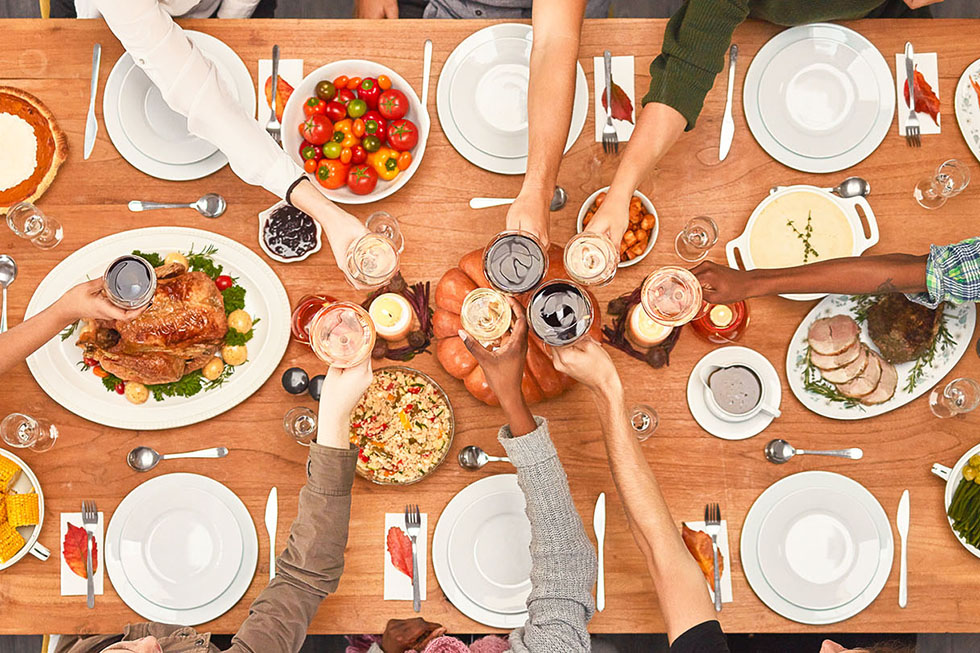 Giving Thanks: Friendsgiving Edition

From nailing down the details to executing the event it can get a little crazy at times if you're not the planner type. Let us help you execute your perfect friendsgiving.
Who, What, When & Where 
Who: you & friends
What: a big thoughtful and thankful get together where everyone invited brings a dish
When: totally up to you
Where: figuring out the ideal location is key. It's a delicate balance of who wants to host, putting a "feeler" text/email out to your friends vs. how many friends you can actually host in the space. The space must also be equipped with an oven and refrigerator to help keep things at the correct temperature 
How to Estimate Food
In an effort to reduce food waste, this website really helps create the sign-up sheet for what amount of food could be brought. Start here: https://savethefood.com/guestimator/ and then adjust if you think there should be more or less. Remember food does go bad, so if there are leftovers create the plan to utilize those leftovers…hellooooo apple pie protein smoothie!
Sign-up Sheet
Create an editable Google doc so if inspiration strikes someone the day before but another friend is already signed up to bring that dish they can stick with their original idea or change to something that isn't already taken. See our example: 

BYOB
Everyone has a different beverage of choice so to eliminate the cost and stress off of the host to try and please everyone, a "BYOB" message is suitable for all drinkers.
How to Keep Food in Temperature
Food generally lasts 3-4 hours outside of temperature. So in efforts to keep things at their peak freshness and quality:
Make space in your fridge before the event to keep things cold
A Crockpot can be used to keep a side dish warm
Keep the oven at the lowest temperature and seal the dish with foil to help retain moisture while keeping the dish warm
Once every dish has arrived start bringing out everything so you don't have to keep a mental timer on how long each dish has been sitting out
Coordinate the Clean Up
Sometimes the hardest part of a get-together is the cleanup. Much like the food sign-up sheet, assign everyone a clean-up duty to get the space back to a clean and orderly condition. This will also help eliminate food waste as well since it will be tended to.
What to Bring for the Host
Flowers
Candles
Bottle of wine wrapped in a dishtowel
Handwritten note
Gift basket
Gather Together.
Get everything you need for a special Friendsgiving celebration online or in-store.
Shop Online
Plan Your Trip